By Paula Briggs
The Screen Printing using Overlaid Pattern resource describes how to make stencils based upon a grid to explore over printing in an intuitive way, resulting in the creation of beautiful patterend sheets. This resource shares how we used these patterned sheets to make a screen print sketchbook.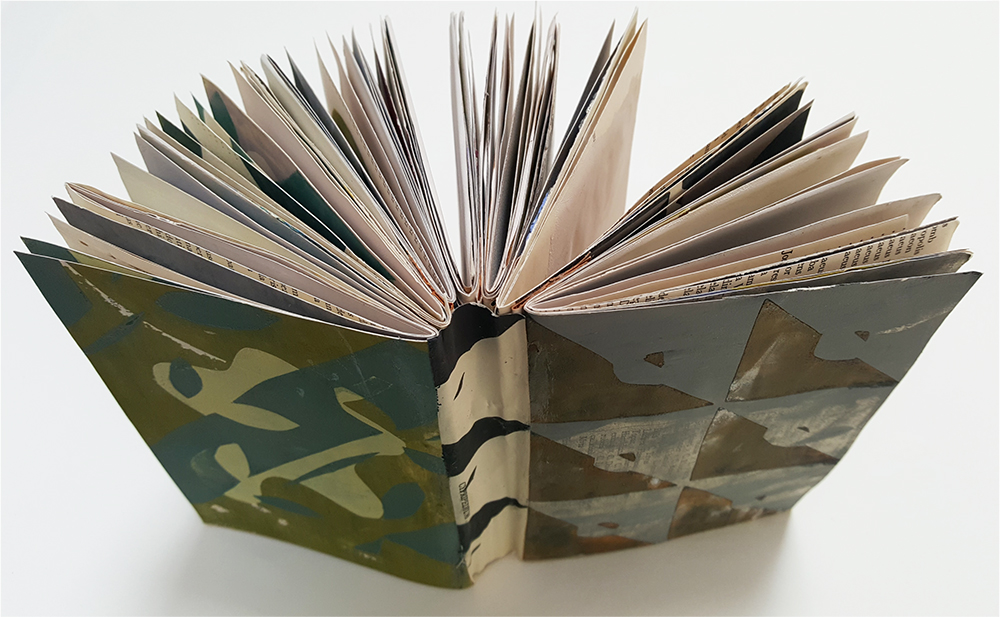 To Begin
The screen printed sheets we created were made over pages from an old book, which gave the screen prints an additional texture. However for this sketchbook, we needed some of the pages to be blank (rather than covered in text), so our first step was to screen print with white / tinted acrylic paint on the reverse of the patterned sheets, to provide a suitable ground on which to draw.
The pages were then folded in half and collated into books of eight sheets:
Binding the Book
We then used needle and thread to sew each booklet together. Bookbinding is an ancient craft and there are many beautiful ways to sew and bind. The method we used here would be frowned upon I am sure by professional bookbinders – but it does the job!
Filling the Sketchbook
Use the screen printed pages within the sketchbook to inspire your drawing! Uniball Eye pens work well on the screenprinted surface.
---
This is a sample of a resource created by UK Charity AccessArt. We have over 750 resources to help develop and inspire your creative thinking, practice and teaching.
AccessArt welcomes artists, educators, teachers and parents both in the UK and overseas.
We believe everyone has the right to be creative and by working together and sharing ideas we can enable everyone to reach their creative potential.
Join AccessArt from only £3.50 per month and enjoy full access to hundreds more resources!
Join Us!

Add to favorites