By Paula Briggs
This animation clip was made as part of the #BeACreativeProducer project.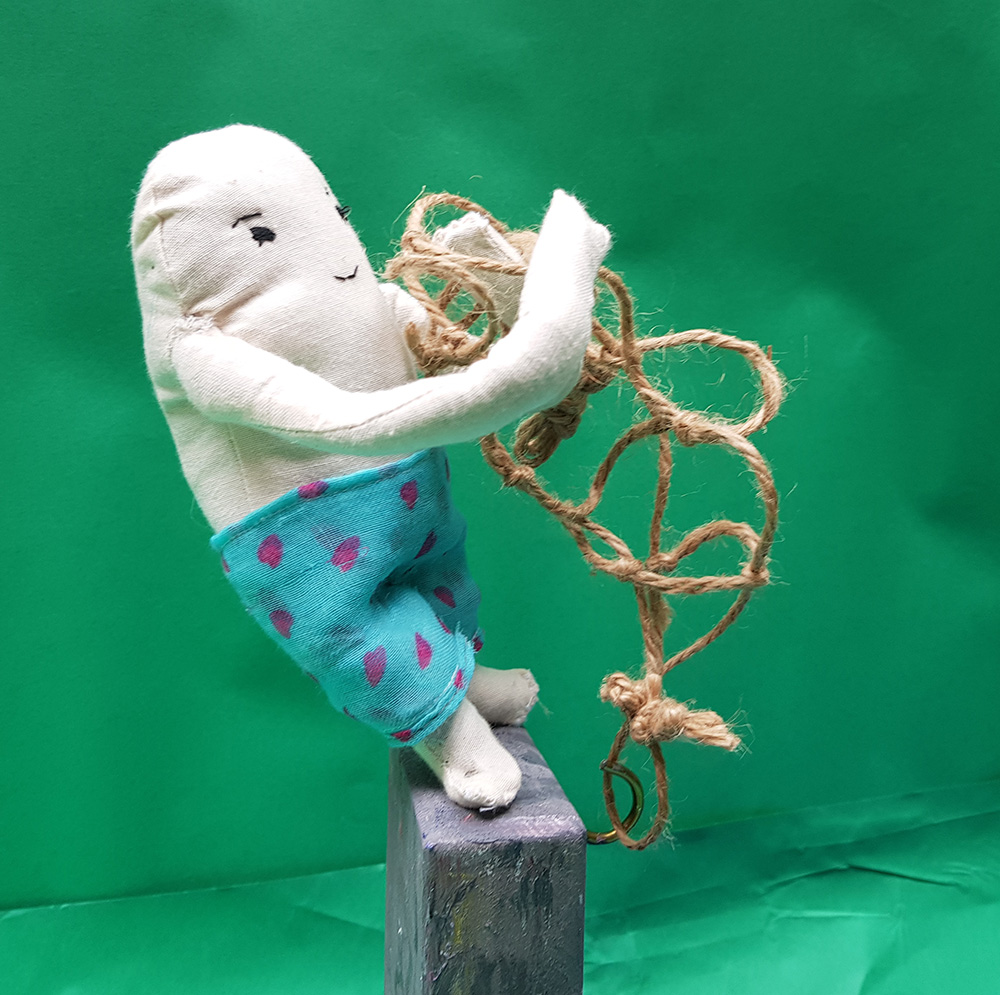 This resource shares the making and animating of a character we named "Bob", who helps demonstrate that being creative can help us tackle challenges in all areas of our life. This method of animation combined making skills in the physical world, with green screen animation. The making of Bob himself took a little time, consisting of a wire frame covered by fabric, but the animation itself was fairly simple.
To Begin
The idea behind this scene was that Bob would be seen balancing on a wooden block, surrounded by water, trying to span the river to reach another wooden block. He would succeed by making a rope bridge for himself, which he could throw across the gap.
First of all, we made Bob himself, creating a simple body, legs and arms from calico, sewn around a wire frame. Bob was stuffed to make him fairly solid giving him enough rigidity to be able to stand (we purposely gave him short legs), and yet enough flexibility to be able to move his arms (which we deliberately made short).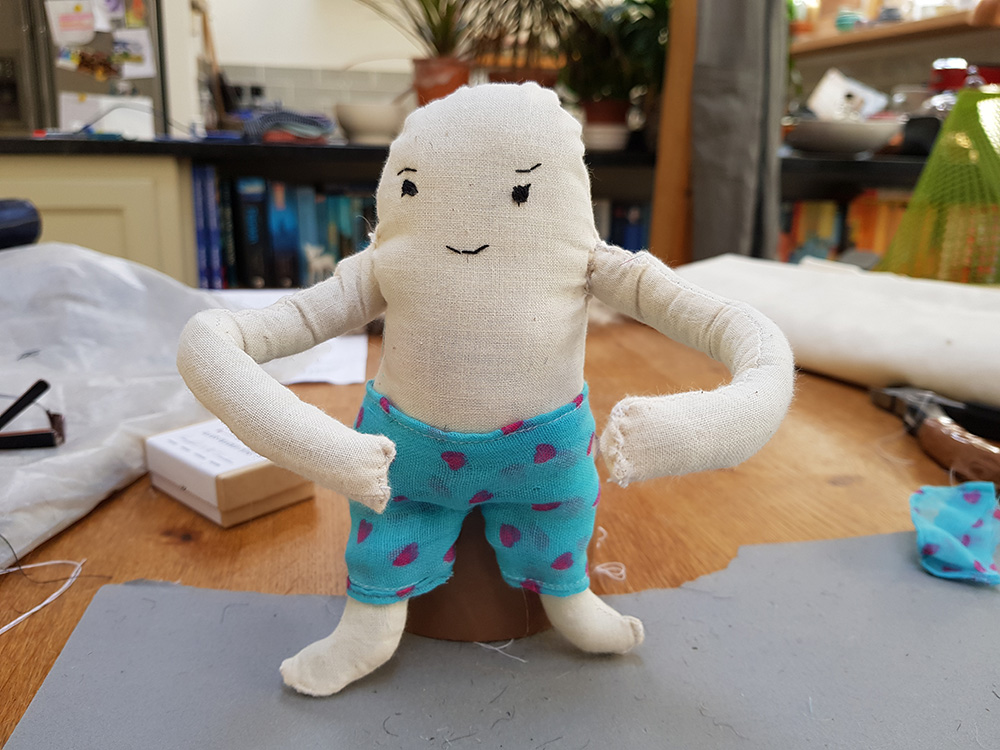 Two wooden blocks were attached to a wooden base, and the base painted with acrylic paint to look like a turbulent river. One of Bob's feet was then attached to one of the blocks with a nail (sorry Bob!), which meant that he could balance on one leg and stand upright, which helped us greatly in the animation later.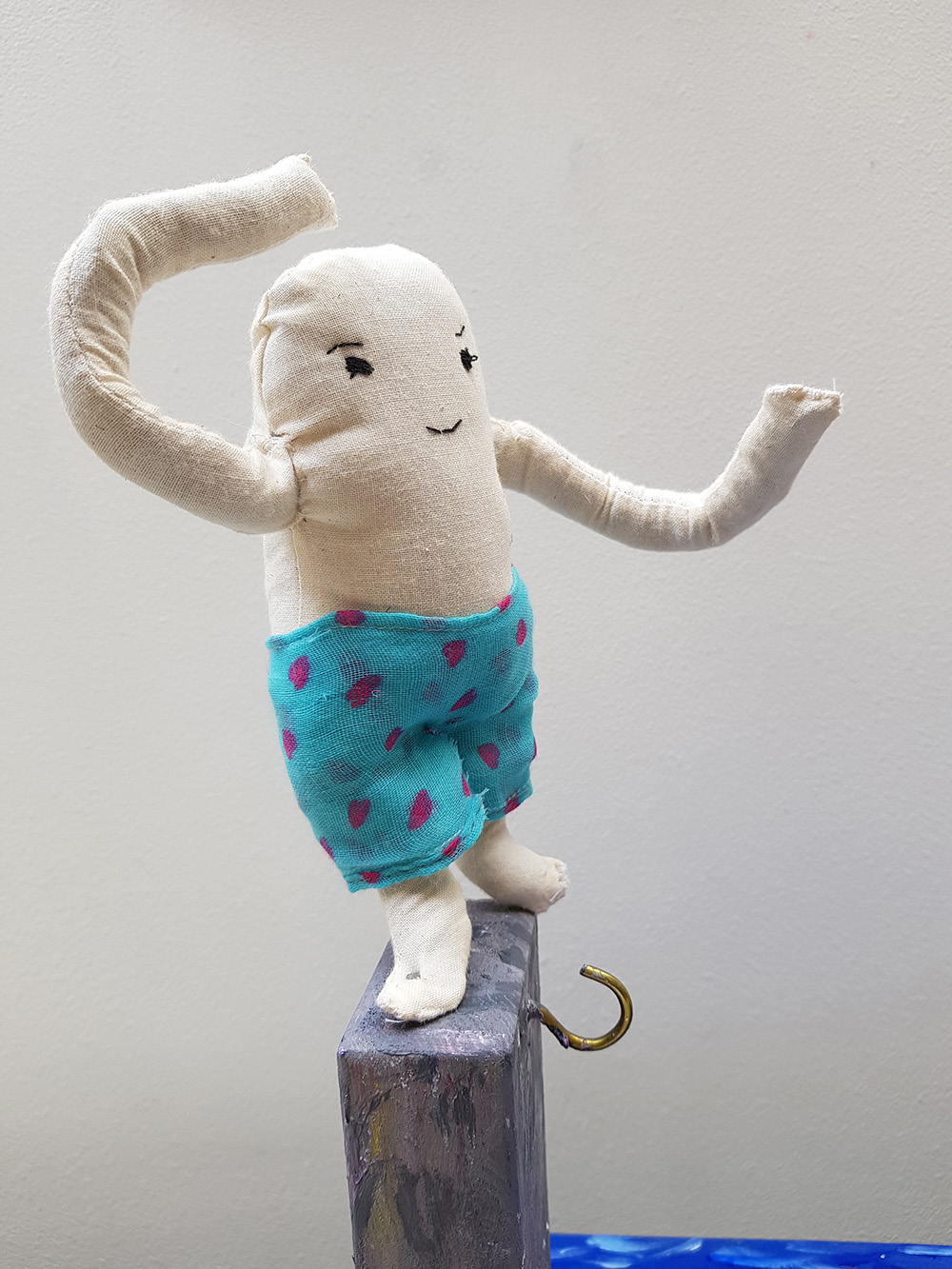 We then made a simple rope bridge which could be screwed up and held by Bob in the early stages of the animation. Two hooks were attached to the wooden blocks – these would be used to hold the rope bridge secure.
The wooden platform and Bob were placed on top of a green fore ground and backdrop, and the animation was filmed on a tablet using Stop Motion pro's green screen facility (the green screen is only available on the Pro version of the app).
The way Bob had been constructed came into it's own as he was animated, and his long, flexible arms gave the teenager animators plenty of opportunity to express Bob's emotions through his body. Green thread was used to help Bob "throw" the bridge he had made across to the furthest hook (the green thread becoming invisible on the green screen).
Many thanks to Rowan and Amelia from the #BeACreativeProducer team.
---
Sign up below to receive email updates from AccessArt. AccessArt promises not to share your information with anyone else and you can unsubscribe at any time!
---
This is a sample of a resource created by UK Charity AccessArt. We have over 750 resources to help develop and inspire your creative thinking, practice and teaching.
AccessArt welcomes artists, educators, teachers and parents both in the UK and overseas.
We believe everyone has the right to be creative and by working together and sharing ideas we can enable everyone to reach their creative potential.
Join AccessArt from only £3.50 per month and enjoy full access to hundreds more resources!
Join Us!
Add to favorites