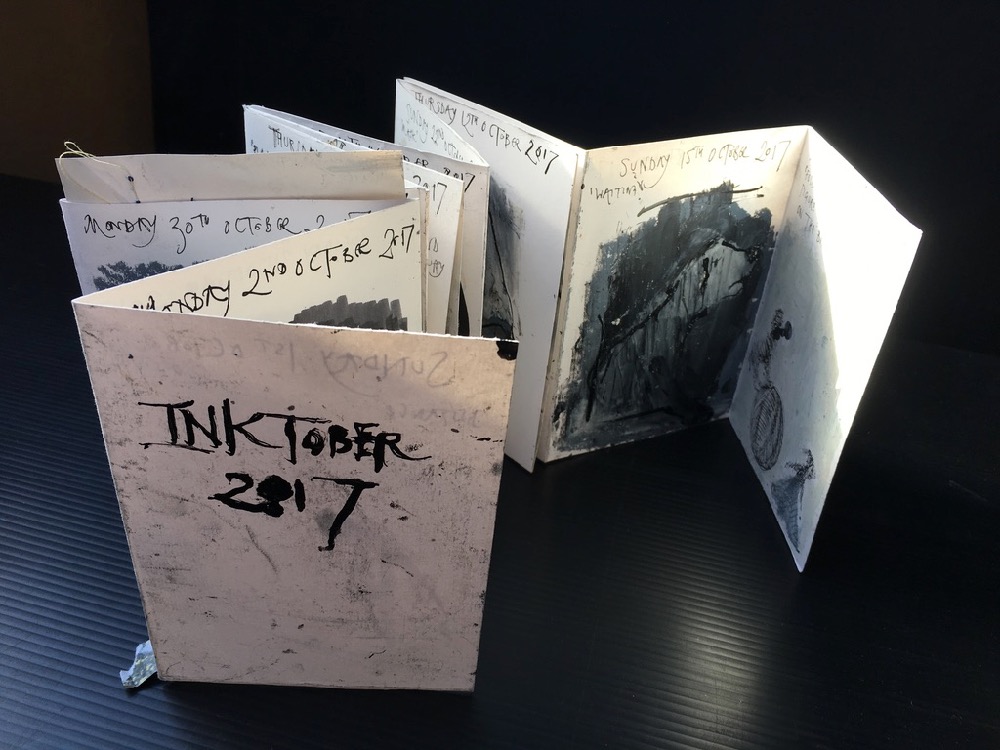 With Inktober 2018 upon us, I have been asked to write about my participation in this challenge last year, and what an energising and inspiring experience it was!
Inktober was created by Jake Parker in 2009 as a way to improve his skills with ink and to develop what he calls "…positive drawing habits". Inktober has now exploded worldwide, and now occurs every year in October, with a list of daily prompts to challenge artists to create an ink drawing every day for that month.
I had first heard about Inktober a few years ago, but felt it was beyond me, until last year when I discovered that one of my favourite illustrators was going to take part. She was going to go with her own theme rather than follow the official Inktober prompt for each day, and this I found liberating.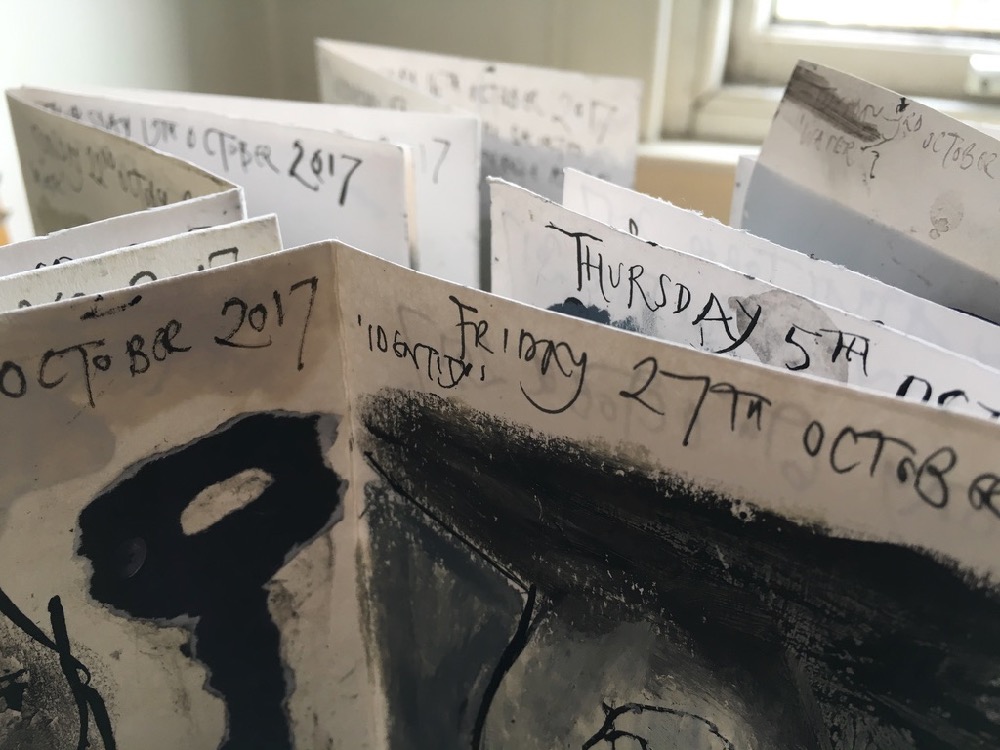 Bolstered by that discovery, I decided to take the plunge. I had been gifted some lovely nibs several months previously and I had been looking for a project to try them out, and this was it. I looked at the Official Inktober list of 31 Prompts (a prompt for each day) and pulled out those that spoke to me. My chosen words triggered other new prompts, and I had fun compiling my final list of 31. I wrote them all down where I could see them.
I then considered how and where I would do my inky experiments. I had in my mind my previously completed 31-day challenge in 2016 for AccessArt's August Creative Challenge, in which I used a self-prepared 31-day accordion sketchbook that I had created out of an A3 sheet of paper. I looked around my studio and found an A6 size accordion sketchbook that I had prepared ages ago for any eventualities, so this then was going to be the basis for my new inky adventures. It would be a challenge in more ways than one, as I had the following to consider:
I would need to fit this round my family and their needs.
This would be in addition to my daily visual diary.
I had other commitments (including working on a commission).
I would be drawing with nibs, a technique that I hadn't explored much before.
I would be uploading my efforts every day onto Instagram.
I would be working to a set prompt every day.
I would need to maintain this challenge for 31 successive days.
I took a deep breath and dived in. And I did it. Yes, there were days that were more challenging than others, but it was a hugely rewarding experience. As with the AA August Creative Challenge, I sought time to work on my images whenever I could in the course of the day, even alongside the hob while cooking dinner!
It is fascinating to look back over my drawings. My primary concern was whether I could manage through using ink alone as I had been so used to working with mixed media, principally pencil over oil pastels, sometimes adding some collage pieces too, and I loved the facility of manipulation offered by these combined mediums. I was feeling a little restricted by the thought of using ink alone. On Day 1, as I started working on my drawing to meet my first prompt, I felt I had to follow my instincts while working on my character, and so added in a bit of collage. I felt so much better for doing that. My reasoning was that as long as there was some ink in my images, it would be perfectly acceptable to mix in other media, and what a difference that made to my approach for the rest of the challenge!
The more I progressed through Inktober 2017, the more I pushed myself, the more I relished the experimental combination of ink, collage, and yes, oil pastels. It was a revelation to find that ink (shellac-based) works beautifully with and over oil pastels. I loved and continue to love incorporating into my work the happy accidents resulting from such experimentation and combination of different mediums. Such accidents should be welcomed as they can generate new directions in your work.
The Inktober project for me was about manipulating the ink and mixing in other media to keep it fresh and exciting for me each day. I posted each day on my Instagram feed, and for some of these drawings I explained my inspiration and processes. For instance for Day 3, I was inspired by a random piece of collage (a lovely glossy silvery scrap of paper) with stitching through it that I had found in my studio, a discarded remnant from a previous project, and used it as the basis for my Water prompt.
For several of my Inktober drawings, if I was drawing late at night, I allowed my tiredness to 'direct' my mark-making, holding my pen, pencil or oil pastel very loosely and not really focusing too much on where my lines or marks were heading, really just trying to convey my exhaustion, and letting my sub-conscious take over (allowing no conscious thoughts to control my mind or hand). This is nicely conveyed in Day 8 when my overriding wish was to lie down and imagine I was drifting along effortlessly on some soft clouds, so shattered I was (ideal for the Shattered prompt!), and the character portrayed here is doing just that. Some nice easy ink hatching and smudged oil pastels were the techniques used here.
Day 19 was also achieved through exhaustion – I was fighting sleep so determined I was not to miss a day of Inktober, and the character I generated here beautifully conveys my "falling into dreams" status!
For Day 28, I was fighting sleep as usual when I did my quick sketch for the Light prompt, and I was feeling quite shivery too, having spent too much time outside in the cold earlier in the day at a muddy adventure park for my children, hence the blue face of my character.
For Day 9, I used carbon paper overlaid with randomly applied oil pastels to 'transfer draw' my Daddy-Long-Legs for the Teeming prompt. The carbon paper/oil pastel combination can create some rather lovely marks, and it is worth experimenting with this. See Monoprinting with Oil Pastel and Carbon Copy Paper by Paula Briggs for more about this technique.
Day 11 was rather fun in that I found myself changing my set prompt for that day (I rather enjoyed the feeling that I was breaking a rule, which is what art is all about!). The word Cloud had been my prompt, however as clouds had already appeared in my work on previous days, I decided to go with a random piece of torn up watercolour paper which had lovely splodges of grey and blue watercolour paint on it that I had found on my studio table. So 'Splodge' became my revised prompt! By turning the torn piece of paper around in my hand, I discovered the splodges suggested a pig-like face and arms, so I started drawing random inky lines and came up with a pig-like character entitled "Sleepwalking Splodge".
Day 14 is a great example of happy inky accidents arising out of mixing shellac-based ink and oil pastels. The areas which repelled the ink created very interesting, almost textured, layers over the original marks.
Even a meal out in a dimly-lit restaurant shouldn't stop you from sketching as evidenced in my Day 16 image. We were away on holiday at the time (yes, a holiday shouldn't stop your daily drawing habit either!), and we were having to wait a while for our meal to arrive. Happily I had taken along my Inktober sketchbook and materials so thought I would have a go, despite the poor light. The resulting inky sketch was unplanned, evolving out of an inky blob which seemed to suggest a wonderfully quirky face. I couldn't quite see what I was doing, which was rather liberating.
There were also times when I thought I had some idea of what to draw, but ended up with very different results. Day 24 is such an example. For my Silence prompt, this drawing evolved differently from what I had thought I would do, but that's the way I prefer it and it's how I normally work, without any preconceptions, allowing my drawings to evolve of their own accord. After I had done this drawing, I wrote the following words "As she felt the nourishing warmth of the sun on her back, she discarded her heavy jacket and silenced her busy thoughts".
I added captions to a lot of my Inktober images. The words normally come after, not before, otherwise it would feel forced to me. The artist and illustrator Norman Thelwell (so well known for his pony cartoons), commenting on his first large cartoon published by Punch in 1952, wrote in his book "Wrestling with a Pencil" that he "…made the drawing first and worked out the caption later, which is quite the wrong way to go about producing cartoons". There is no right or wrong way – go with whatever works for you!
I quite often work surrounded by various materials on my studio table, reaching randomly for something in the midst of creating an image. Alongside my many drawing materials, I quite often leave discarded collage pieces on my table, not shut away in a box with a lid, but left uncovered, to act as triggers for possible new images. Also, if you have any unwanted drawings or watercolours on loose sheets of paper, don't throw them out. Tear them into interesting random shapes and keep on your table for playing around with or to act as triggers for new work.
Day 25 for the Thought prompt is an excellent example of utilising random collage pieces that I found on my table. I created the oversized head out of these random pieces, these being discarded remnants of previous work, and which also represented my discarded thoughts. Hence my instinct was to gather up these pieces to create a jumble of thoughts in an oversized head. I then felt inspired to write the following words: "Sometimes his head was so full of jumbled thoughts that he would sit down quietly, and wait patiently for the right thought to dislodge itself at the right time".
I rather like Day 27 with my response to the Identity prompt. Again, this is another drawing that evolved differently from what I had imagined. My caption came afterwards: "She could see no reflections in any of the mirrors. She had questioned her identity so relentlessly that she no longer existed". It is as if my drawings are telling me their own stories. They are in fact creating their own identities, and I can't really argue with that. Let your drawings tell their stories – let them surprise you.
If you're hesitant about having a go, you might be interested to hear that I've been keeping a daily visual diary for 6 years now, and one of the things I've gained from this is the confidence to dive into new daily creative challenges knowing that I now have the capability to take them on and the commitment to see them through to the end, so it is definitely worth keeping a daily sketchbook.
Don't think of challenges as scary or undoable, these challenges have been created specifically to help you ease yourself into daily mark-making. By taking up challenges, you are helping to make your creative daily journey interesting and experimental! Buy or make a sketchbook for each month, take it day by day, and by the end of the month you'll have filled your sketchbook and be ready to do another one for another month! If you find at first that you're missing a day here and there, don't worry, just keep pushing on. Eventually you will find that daily momentum and it will be richly rewarding in so many ways.
Hopefully I've inspired you! Get that sketchbook and go with Inktober 2018 for your first monthly challenge! There is no need to share online if you don't want to. Think of it as your own personal project. And have lots of inky fun!
---
Morag Thomson Merriman is a Scottish artist, illustrator and printmaker. She is a seeker of stories and a juggler of life and time. For 6 years now, she has been keeping daily visual diaries. These daily drawings are created randomly using mixed media, however the key focus for Morag is to use line to express state of mind (some of her drawings have been described as melancholy). She uses colour to symbolise emotions and fragility. Her drawings are also based on collective observations of people and the natural world, or are derived from her emotional memories, past and present. She is equally fascinated by the atmospheric sense of place associated with older buildings, and their echoes of past lives.
www.moragthomsonmerriman.co.uk
Facebook , Instagram
---
Sign up below to receive email updates from AccessArt. AccessArt promises not to share your information with anyone else and you can unsubscribe at any time!
---
This is a sample of a resource created by UK Charity AccessArt. We have over 750 resources to help develop and inspire your creative thinking, practice and teaching.
AccessArt welcomes artists, educators, teachers and parents both in the UK and overseas.
We believe everyone has the right to be creative and by working together and sharing ideas we can enable everyone to reach their creative potential.
Join AccessArt from only £3.50 per month and enjoy full access to hundreds more resources!
Join Us!
Add to favorites