AccessArt had a wonderful start to 2016 leading an InSET (In Service Training) session for teachers from English Martyrs Catholic Primary School in Worthing, who made their way up to London for an induction into London Museums on Exhibition Road and an AccessArt whistle stop introduction to drawing and sketchbooks as tools for recording and thinking.
The session was enhanced by a donation of beautiful Pink Pig Sketchbooks for the teachers to use.
Teachers were able to choose from a diverse range of different sized sketchbooks with a variety of cover designs. The sketchbooks, each being different, offered teachers the chance to explore their own personalised approach to sketchbooks and to take 'ownership' of their book.
During this session Sheila, from AccessArt, led teachers on guided drawing and sketchbook exercises to give them the confidence to take their pupils into a museum setting with sketchbooks, and enhance drawing approaches in their school.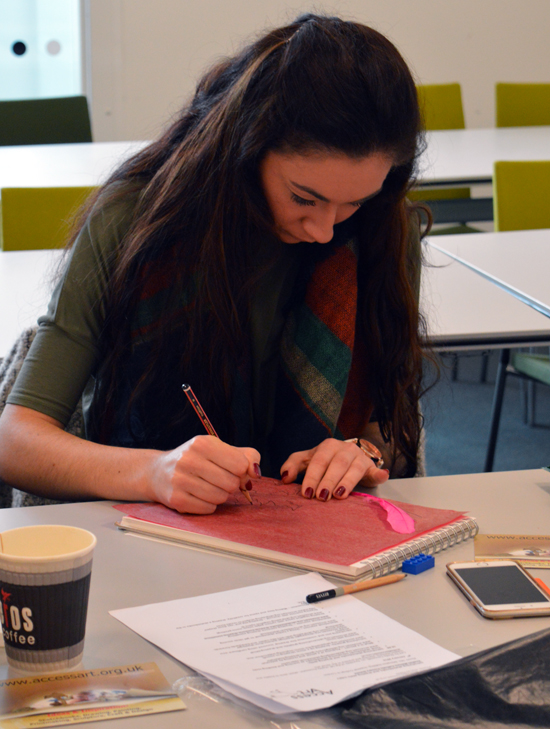 Paula Briggs also gave the school a copy of her book, Drawing Projects for Children (Black Dog Publishing London) to inspire more ideas for teaching their pupils to draw.
AccessArt advocates that drawing should not be an add on subject, but integrated into teaching and learning across all subjects and, like reading, developed as a skill for life.
---
Exercise One:
Learning how not to hold a pencil for expressive line making.
Teachers were encouraged, on several pages of their new sketchbooks, to explore and experiment with different mark making approaches. They were led on guided drawing exercises exploring how 'weights of line' are governed by how the pencil is held. Teachers worked on 'unlearning' the traditional pencil holding position for writing and played with experimenting with how they might hold a pencil to draw. Teachers were given soft pencils ranging from 6B to 9B.
Teachers explored holding their pencils vertically, lightly dangled over the paper with the tips of their fingers to make light, wispy marks, or conversely holding the pencil by the tip horizontally, creating rubbing motions, thus experimenting with creating a variation of weights of lines.
Exercise Two:
Drawing a secret object from feel.
A small object was placed in each of the teacher's palms, (held out behind their backs so they could not see each others' objects). There were two sorts of contrasting objects to draw; the first a small, rubber ball, the second a small, hard Lego block.
See "Feely Drawings" or Drawing by Touch – a 5 minute drawing exercise and
Introducing Graphite and Blind Drawing
Teachers were asked to imagine that they had no idea what the object was and try not to draw how they thought it looked, but instead to draw how it felt – translating the feeling of the object into marks. They were encouraged not to be too prescriptive but allow themselves to let their intuition guide their mark making.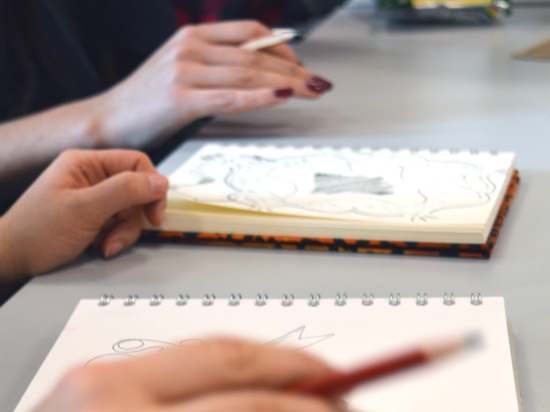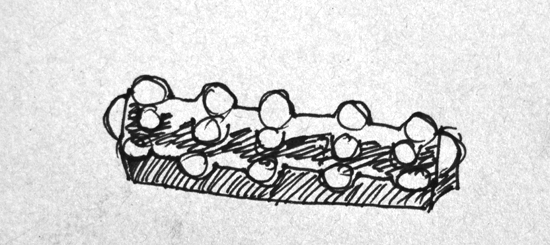 Exercise Three:
Many of AccessArt guided exercises aim to shift the perception that drawing is about an end result, but rather a tool for looking and studying the surrounding world.
Over the years we have developed and borrowed many strategies to help teachers use drawing for looking.
Here teachers undergo a series of exercises where they don't look at their drawings but only look at the subject in front of them.
To further separate the teachers from their drawings they drew over carbon paper placed on their sketchbooks (Paula Briggs Drawing Projects for Children, Black Dog Publishing London).
See Monoprinting with Oil Pastel and Carbon Copy Paper
Teachers explored continuous line drawing and filling their page with the subject.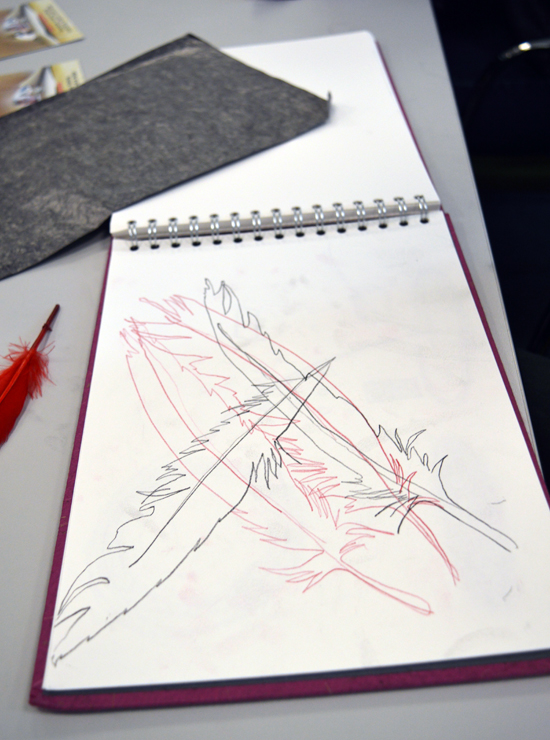 Teachers then placed a piece of cardboard through their pencils to not be tempted to take a peak at their drawings! This is another strategy to stop teachers worrying about their work and keep their eyes on the subject!
See Drawing and Making Flowers
Below a teacher is encouraged to 'grow her drawing' and experiment with making an 'extension' to a page in her sketchbook; not to fit the drawing to the page but grow the page to fit the drawing!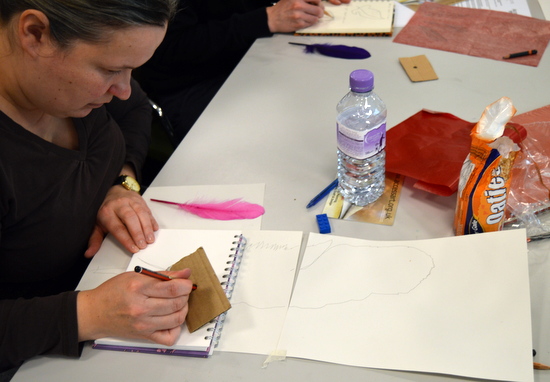 Exercise Four:
Now warmed up and armed with looking and feeling as the best tools for drawing, teachers were given drawing prompts on cards and encouraged to use them to overcome the 'white page syndrome' and get filling their sketchbooks.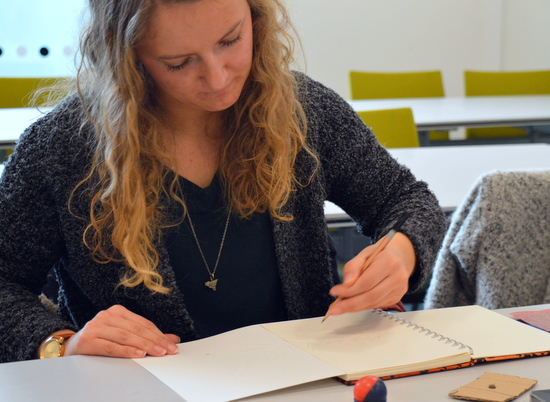 Look and draw (a chosen subject) in the time it takes to inhale and exhale one breath
Draw (a chosen subject) with your non-dominant hand
Draw your chosen subject in a continuous line without taking your pencil or pen off of the paper
Draw your chosen subject in five lines
Draw your chosen subject in three lines
Draw your subject in dots and specks
Draw your subject in scrapes and slices
Draw your subject without blinking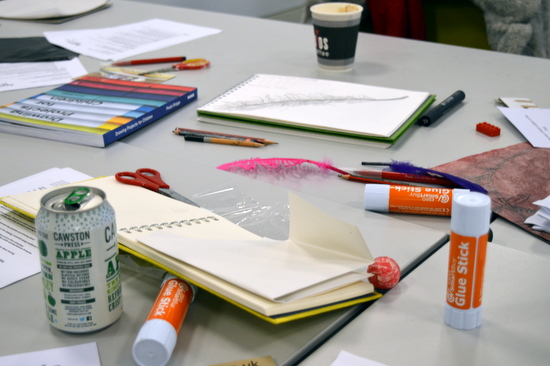 Exercise Five:
Creating Sketchbook extensions – the Eight Paneled Folded Sketchbook.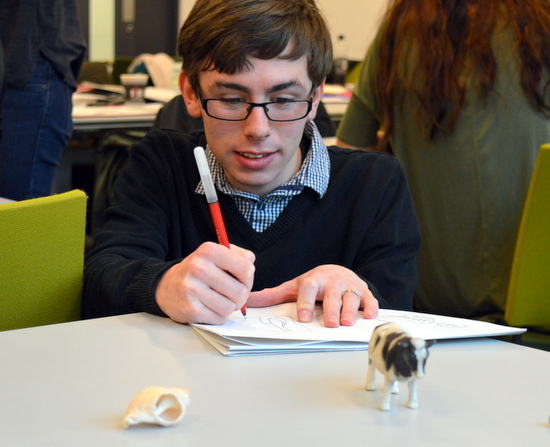 Taking with them the newly practiced knowledge that drawing is a tool for looking and for making personal discoveries about the surrounding world, we set up a mock museum in the room for teachers to practice using a sketchbook to record, think and look.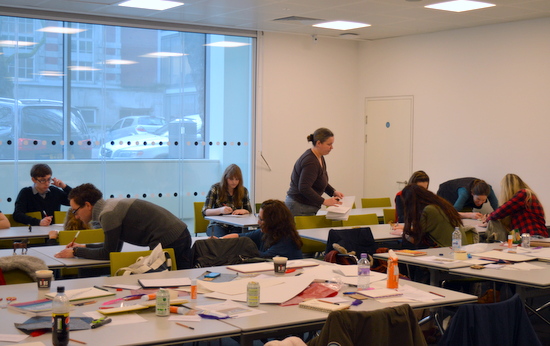 Drawing a series of eight drawings in rapid succession, teachers were encouraged to move around the room 'collecting' objects in their books and practicing looking and exploring the objects from unlikely and new views.
What do you see? What do you really see?
See Exercise to Introduce Foreshortening and Volume in Line Drawings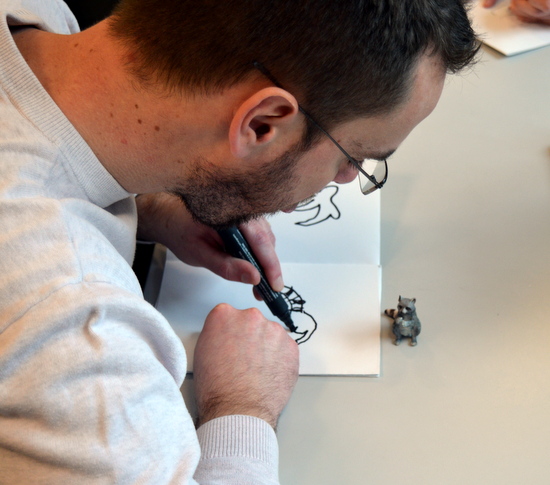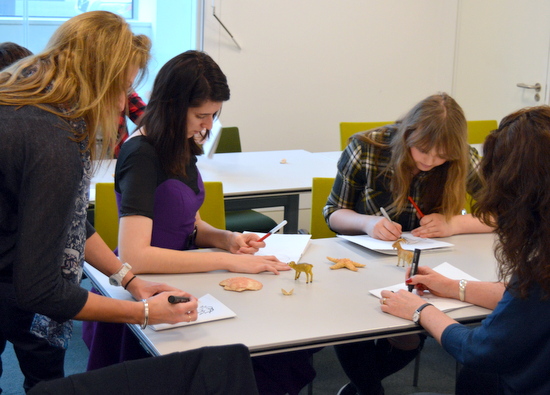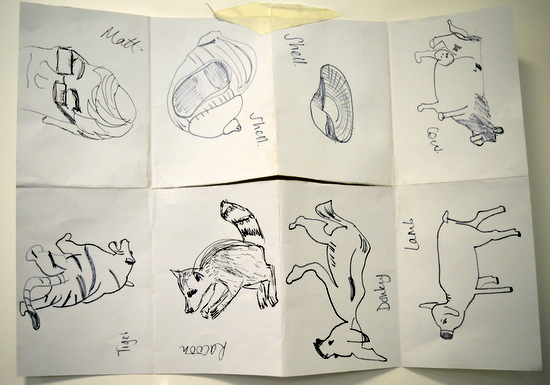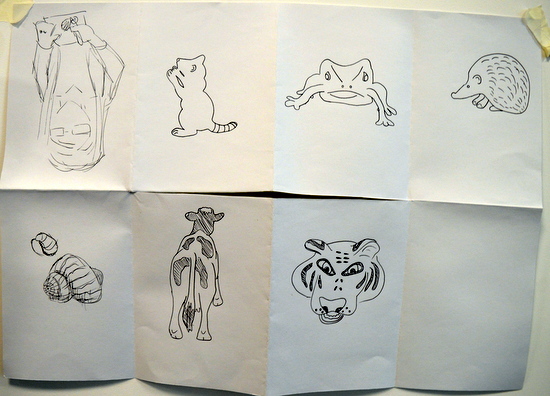 Teachers then inverted the 'sketchbook' to work on panels on the other side of the paper and took it in turns to draw each other drawing the objects. In this way teachers were introduced to basic ideas of reportage and given the opportunity to see and study each other looking. What does the world look like to others?
See Sketchbooks: Drawing Someone Drawing Something
They were encouraged to work quickly and not to take too long studying each others' features, but instead to take the essence of each other by capturing form in a few lines.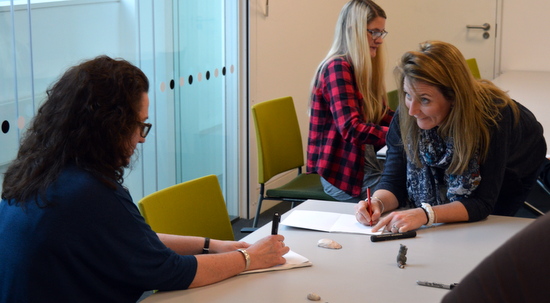 Exercise Six:
Using See Three Shapes, by Paula Briggs, teachers were guided through a step by step approach to tackle observational drawing and make an object appear 3D using a simple approach to tonal shading.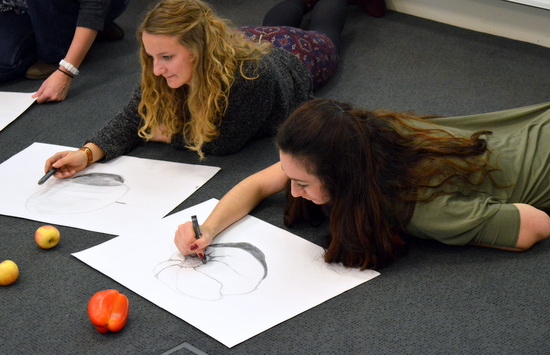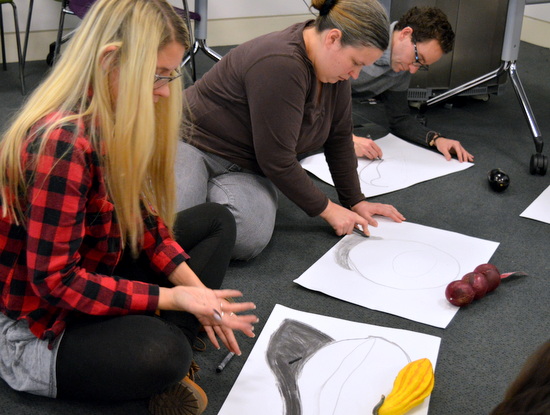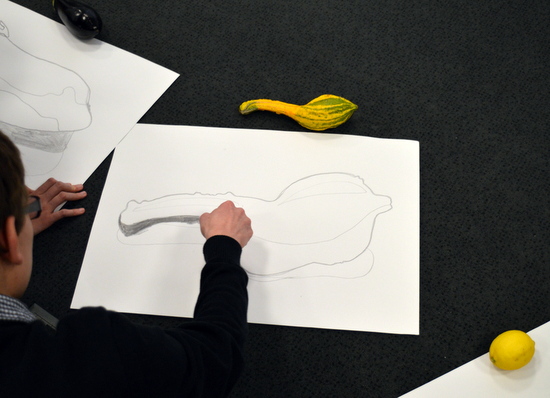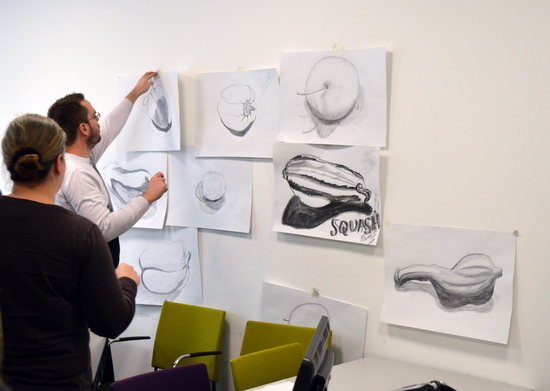 Many thanks for teachers at English Martyrs Catholic Primary School in Worthing for inviting AccessArt to share our sketchbook approach with you and allowing us to document the session.
Many thanks to Pink Pig for the generous donation of sketchbooks which enhanced this session enormously.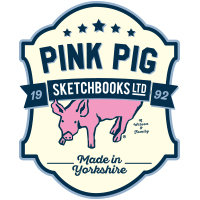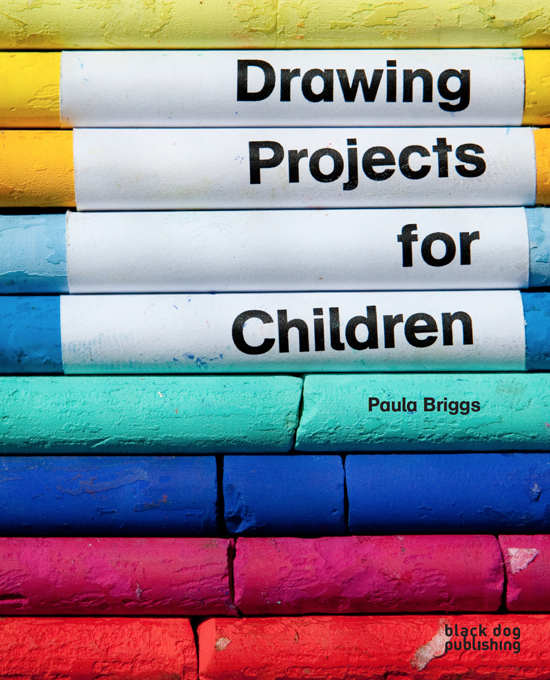 Add to favorites