By Paula Briggs
This post shares an hour long session at the AccessArt Art Lab, in which the young teenagers (12 and 13 years) worked on two projects simultaneously: a shared winter forest drawing in charcoal, and a sculpture challenge to make a winter tree. The time and material constraints resulted in an energetic and inventive session.
The students jumped between activities, and I'm sure this helped inform their thinking and creativity. We worked as a small group of 5, but this activity would be adaptable for all ages and group sizes.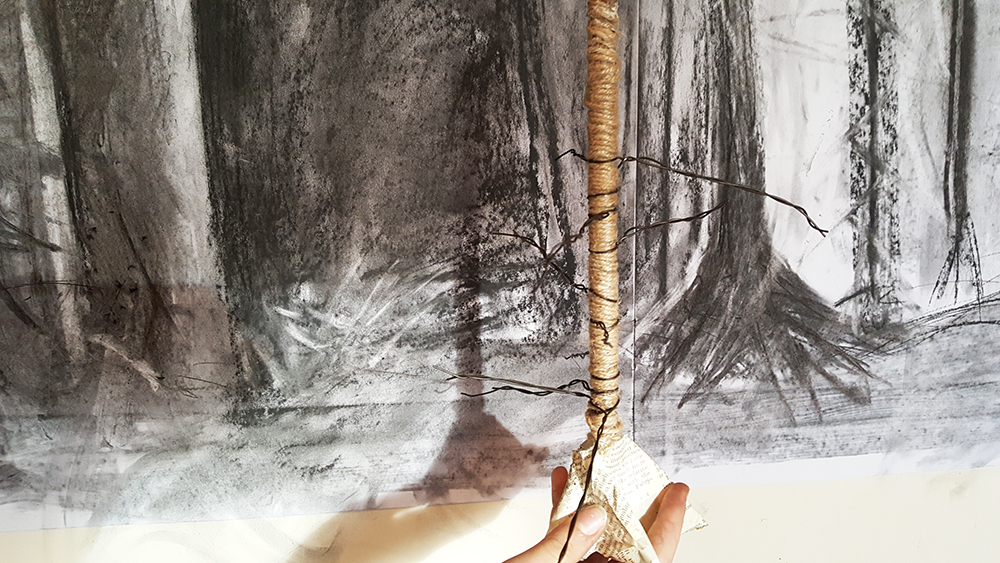 The Drawing Challenge: To Create a Shared Drawing of a Winter Forest, in Charcoal
I taped paper to the wall and provided charcoal, compressed charcoal, and rubbers.
I challenged the students to build a stark winter scene of a pine forest. I asked them to:
Go up to the drawing one at a time to add their marks to the drawing. Each student had two opportunities in the hour long session to add to the drawing.
The first person to draw on the paper had the responsibility of setting the scale. I encouraged them towards "large". I also gave permission to add more paper if they felt the drawing should grow.
Before they started drawing, I asked each student to take a moment to look at what was on the paper. Working intuitively, I asked them to add to the drawing to help build the forest.
Help knit the drawing together, by working on different parts of the drawing (so that we didn't have parts owned by one person, and parts owned by a different person).
Think about dark and light or "chiaroscuro". How could they use the charcoal to it's fullest potential?
Draw with energy: draw standing up and allow the whole arm to make the marks.
Think about direction of weather/light.
When the students were not working on the drawing, they were working on their sculptures (below). It is easy to overwork charcoal drawings resulting in a uniform greyness, so I interrupted the children at points before I felt they were about to overwork an area, and invited another student to take over. This did help keep the drawing fresh and give it energy.
The Winter Tree Sculpture Challenge
Alongside the shared drawing, children were also challenged to make their own individual sculpture of a winter pine tree. Limited materials were provided, including three types of wire, string, paper, acetate, card and glue. I also provided garden canes cut to a pre-decided height to use as the starting point (i.e. as the central trunk of the tree).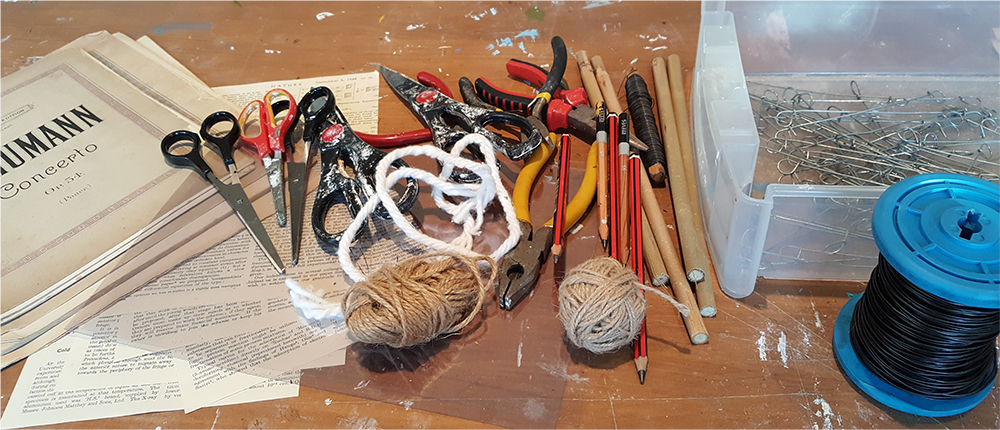 Students were given very little guidance, instead they were given permission to use the materials as inventively as possible to make their creative response to "winter tree".
Finally we took the opportunity to photograph some of the finished trees in front of the drawing.
You can see how we used this project to give context to an architectural project here.
---
This is a sample of a resource created by UK Charity AccessArt. We have over 750 resources to help develop and inspire your creative thinking, practice and teaching.
AccessArt welcomes artists, educators, teachers and parents both in the UK and overseas.
We believe everyone has the right to be creative and by working together and sharing ideas we can enable everyone to reach their creative potential.
Join AccessArt from only £3.50 per month and enjoy full access to hundreds more resources!
Add to favorites