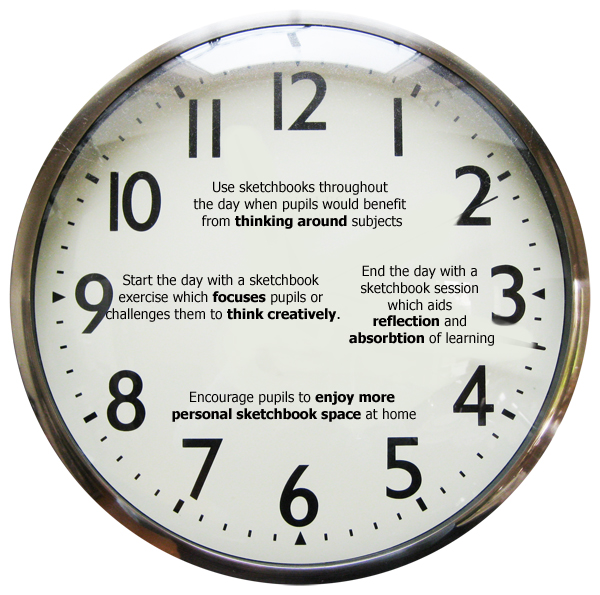 Exploring the Use of Sketchbooks in Primary Schools.
The Sketchbooks in Schools project is about making time and space for a child to experience what it feels like to take control of his or her own learning; to feel a sense of ownership, pride and motivation. The project focuses around the importance of enabling a child to realise how he or she can learn to think and act creatively and resourcefully, skills which can benefit EVERY one, throughout school and beyond into adult life.
The exercises and activities we will be providing via this space can be used as standalone activities in "sketchbook time", and in being used in this way, the sketchbook can be a vital tool in enabling this kind of learning. We feel there is a great opportunity (and necessity) to MAKE time for this kind of learning in schools today, and now. Pls let us know via the comment box below how your school has successfully carved such a time within the school day, and the impact it has had.
Sketchbooks time which is embedded in subjects
Use of sketchbooks can also be embedded in the school day via subject areas (which extends way beyond art and design). Creativity is a skill which actually underpins (or at least should underpin) ALL learning. If you are uncertain as to whether there is an opportunity to use sketchbooks within certain lessons, ask one simple question:
Would the pupils benefit from thinking around the subject area? Would they benefit, or would their learning experience be deeper, more active, and more relevant if they were given space to experience the subject area from a number of perspectives?
If the answer is yes, then sketchbooks can help.
Children need to be introduced to sketchbook skills, and given practice, just like any other learning experience. For that reason we see the activities that we will be providing via this space as being key to enabling those skills. Once those skills begin more ingrained, and present as possibilities, then the use of sketchbooks, or the act of reaching for a sketchbook, will become more habitual and natural.
We invite your comments!
"Today we wrote poetry. Following a week of discussion of imagery in poetry, the children had five minutes to use their sketchbooks to jot down ideas for their own poems. Some even wrote a poem in five minutes!" Fran
"We explored mathematical symbols as images during a maths session. I invited them to create a page or two on one of the symbols ie multiplying, adding, subtracting or dividing. This was tricky – I was hoping for some lateral thinking but the children were finding it very difficult. This is an area we would welcome help with – how to extend the thinking from the obvious to the more creative. Perhaps its just lots of practice and modeling?" Fran
"I think getting into the "habit" is really important (for children and adults). regular use is key, even if it is just five/ten minutes, but if it is five ten minutes every morning, then switching into sketchbook mode gets easier and easier. providing children with short quick activities to get them to tune in." Clare
"At Hawthorn Park Lower school (one of the partner primary schools) the children start each day by working for 10 mins in their 'thinking books'. Staff pose a question (via a sticker) to encourage thinking skills. Children respond via drawing. They plan to develop this into richer sketchbook use over the next term."
---
This is a sample of a resource created by UK Charity AccessArt. We have over 850 resources to help develop and inspire your creative thinking, practice and teaching.
AccessArt welcomes artists, educators, teachers and parents both in the UK and overseas.
We believe everyone has the right to be creative and by working together and sharing ideas we can enable everyone to reach their creative potential.
Add to favorites