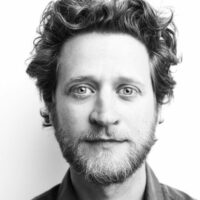 Andrew

Amondson

is an American born artist and filmmaker living in Berlin. Andrew grew up in the Pacific Northwest of the United States exploring the old growth forests, climbing trees when they would let him and talking with them when no one was looking… he still does. An education in theatre lead to a career in documentary filmmaking which spans more than 20 years and includes collaborations with Wim Wenders. He formed

Playful Nature

in 2015 with fellow artist Benjamin Martin, co-creating

play based

installations in Berlin, presenting their work in Denmark, Italy and the UK. He joined Studio Olafur Eliasson in 2017 as part of the production and development team. His own artistic practice includes sculpture and participative installations.