We started last week by thinking about the framework of the human skeleton, how it provides structure and support to skin and muscles. For this workshop, I combined our study of the skull with ideas borrowed from the Mexican traditions for Dia de Muertos – The Day of the Dead.
Modelling a Skull
I brought in a life size clay skull into class. Though I made this beforehand, I described to the class how how I took measurements from a life model, made a metal armature and stand, then covered the armature with clay to shape the skull.
I brought in anatomy drawings of the skull, and, using the model and the drawings, called attention to the salient features. I also had a sheep skull, and we looked at the similarities and differences in the structures.
We used: 'Anatomy Drawing School' by Könemann, Köln (Editor Magda Molnar) and text by György Feher, Drawings by Andras Szunyoghy (English version printed by Goodfellow and Egan, Cambridge 1996 – ISBN 3-89508289-9).
Observational Drawings
Using pencils or black markers on A3 paper, the class copied the anatomy drawings and made observational drawings from the human or sheep skulls. Several people took pictures on their phones, and drew from the photos. As always, I encouraged the class to alter the forms or invent details if they wished, and some made monstrous one eyed skulls, or stretched and elongated the shape.
Dry Bones and Bright Flowers
In Mexico and the American Southwest, the Day of the Dead -Dios de Muertos- is celebrated on November first. It is a festival to remember and celebrate those who have passed away, by making alters and displays of skulls and skeletons decorated with brightly coloured patterns and flowers, with offerings of food and sweets. I put out ink, paint and markers and invited the class to decorate the skulls with flowers or patterns.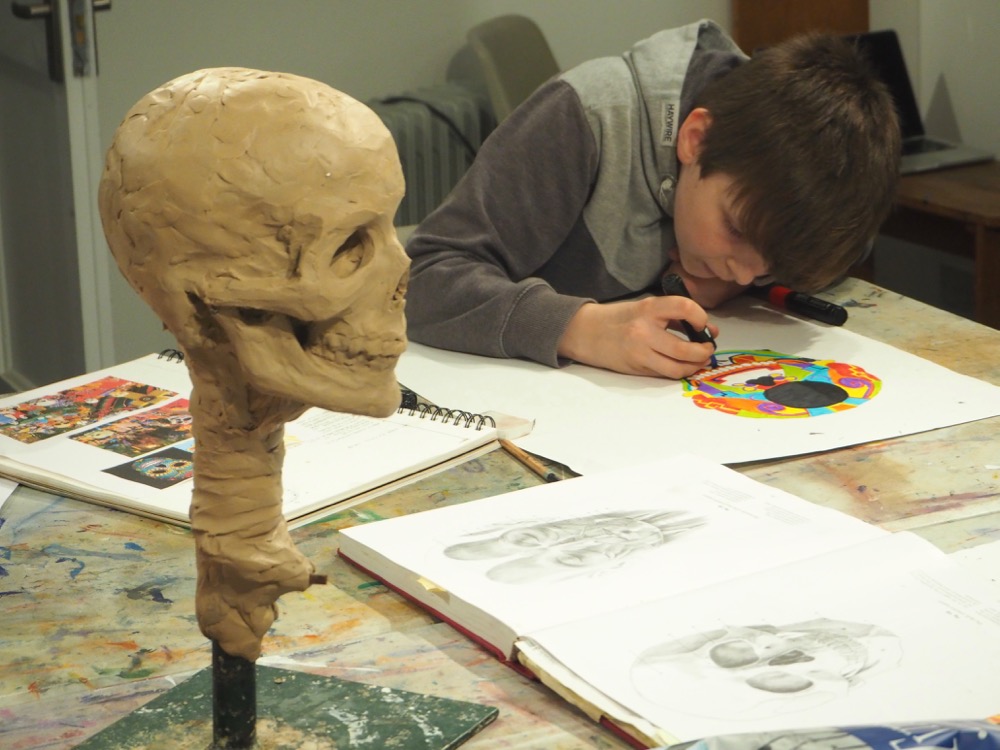 A Gallery of Brightly Coloured Skulls
Many thanks to teenagers from AccessArt's Experimental Drawing Class for Teenagers, for sharing their ideas and work with AccessArt.
Many thanks to Melissa Pierce Murray, for leading sessions and sharing her ideas and processes with AccessArt.
UK Charity AccessArt has over 750 resources to help develop and inspire creative thinking, practice and teaching.
We believe everyone has the right to be creative and by working together, and sharing ideas, we can enable everyone to reach their creative potential.
AccessArt welcomes artists, educators, teachers and parents both in the UK and overseas.
Join Us!
---
Sign up to receive our email newsletter. By completing the form below you explicitly agree for us to send our email newsletter to you. We will not share your information with anyone else and you can unsubscribe at any time!
Add to favorites