Melanie Johns donated a colourful origami chicken to the Share-a Bird Project and also generously provided a set of simple instructions explaining how she made her origami bird.
Melanie suggests using origami to transform old artwork.  It's an exciting way of using less successful drawings or paintings on paper to produce a new creative outcome, in the form of a personalised paper sculpture.
"The scale can be modified to suit the quality/type of paper used, large structures can be made by using double thickness/a collage of redundant artwork.  The bird is relatively simple to make with minimal folds so it works well with thicker paper or card.  Folding figurative work is interesting as the process of folding will naturally crop parts of the image".
Instructions: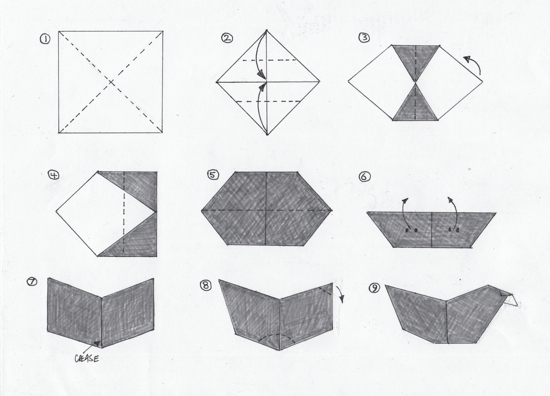 Cut your artwork into a square and crease, corner to corner to mark the centre
Fold two corners into the centre
Fold behind, bringing the two corners together
Fold the top layer only
Fold behind horizontally
Hold the paper between the fingers and thumb at the points marked by black spots and stretch the left and right sides upwards as far as possible
Press a new crease at the centre front and back
Reverse fold head and fold crease.  Fold base into the model front and back then fold out the flaps so that your hen stands up
Completed hen

Add to favorites