I recently gave a talk and workshop to MA level Fine Art students exploring differences and similarities between scientific and artistic methods of investigation and research. While there are numerous overlaps, scientific modes of inquiry can more frequently use a process of proposing and testing hypotheses, while artistic investigation can favour 'play' as a method of discovery. To encourage artists to take a more 'scientific' approach to a set of materials, I handed out a small number of round and bar magnets and steel filings and encouraged them to consider questions of how the magnets and forces were acting, and how they might quantify their findings.
Drawing What it Feels Like
I brought the same materials into the Experimental Drawing for Teenagers Class, but with a different focus. As the students are still in general education, they are likely to be exploring properties of magnets in their science classes, so for my workshop with them I encouraged them playful and aesthetic responses rather than analytic and quantifiable ones. I had them consider how you might be able to represent on paper something you can feel but can not see, and encouraged them to explore visual patterns and structures.
We worked at the table and I handed out 6 small round magnets, 4 bar magnets, and 3 non magnetic larger steel balls to each. and supplied pencils, black markers and white paper. The teenagers experimented with different ways of drawing magnets and forces.
Playing with Magnetic Properties
If you ask artists about their working methods, they will often mention the word 'play.' Playing about with the magnets inspired fresh ideas: making structures, investigating textures, moving a magnet on one side of the paper by means of a magnet on the other side, joining magnets together to make larger arrangements.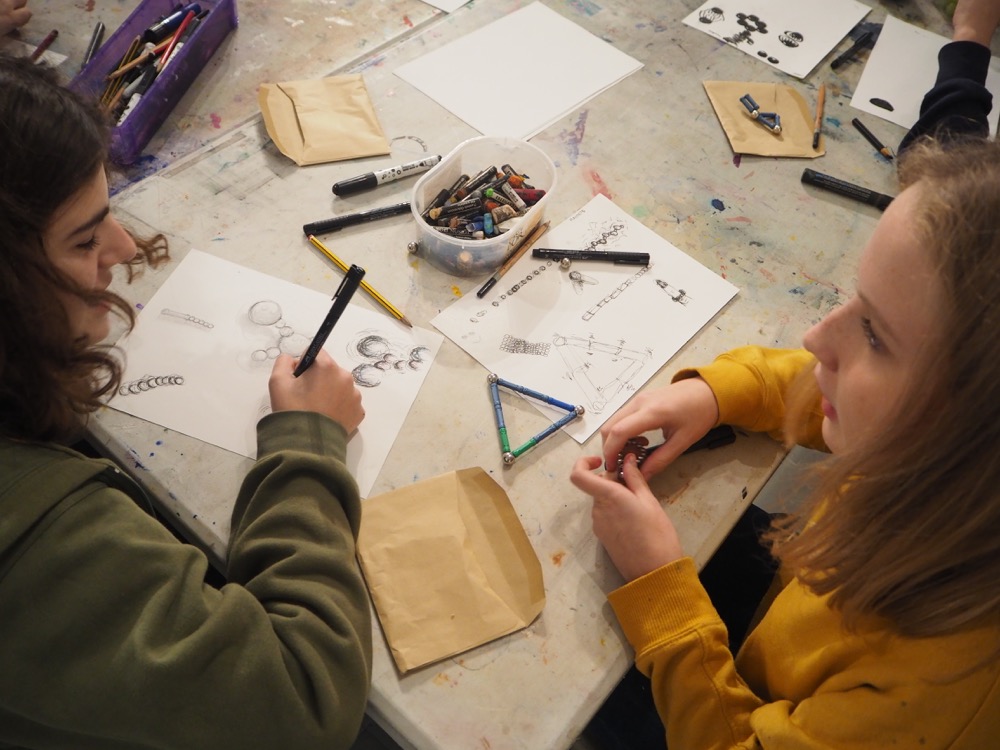 Drawings with Steel Filings
It's also great fun to move steel filings around with the magnets, but it takes quite a lot of tedious work to clean the magnets once the filings stick to them. So, after strongly encouraging everyone to keep the magnets and filings separated, I handed out trays of steel filings. By moving the magnets around on the bottom of the tray, or spilling the filings onto paper, and moving the magnets on the underneath side of the paper, the filings could be made to move around into patterns and structures.
Photographing Small Structures
Often when we work, we focus closely on one thing, and by drawing we can isolate the image we are seeing. I've been talking with the teens about ways to photograph small objects- setting up a photo booth, or holding up against a neutral backdrop. As well as enabling us to get a good image, it helps us to show other people what we are seeing.
Many thanks to teenagers from AccessArt's Experimental Drawing Class for Teenagers, for sharing their ideas and work with AccessArt.
Many thanks to Melissa Pierce Murray, for leading sessions and sharing her ideas and processes with AccessArt.
UK Charity AccessArt has over 750 resources to help develop and inspire creative thinking, practice and teaching.
We believe everyone has the right to be creative and by working together, and sharing ideas, we can enable everyone to reach their creative potential.
AccessArt welcomes artists, educators, teachers and parents both in the UK and overseas.
Join Us!
---
Sign up to receive our email newsletter. By completing the form below you explicitly agree for us to send our email newsletter to you. We will not share your information with anyone else and you can unsubscribe at any time!
Add to favorites