This was a very special day for Sheila Ceccarelli from AccessArt, as she got to meet and work with sixty, year five pupils from Berry Hill Primary School in Mansfield Central Library, with colleagues from Inspire Arts Service, who had previously facilitated the development of the AccessArt Village across Nottinghamshire.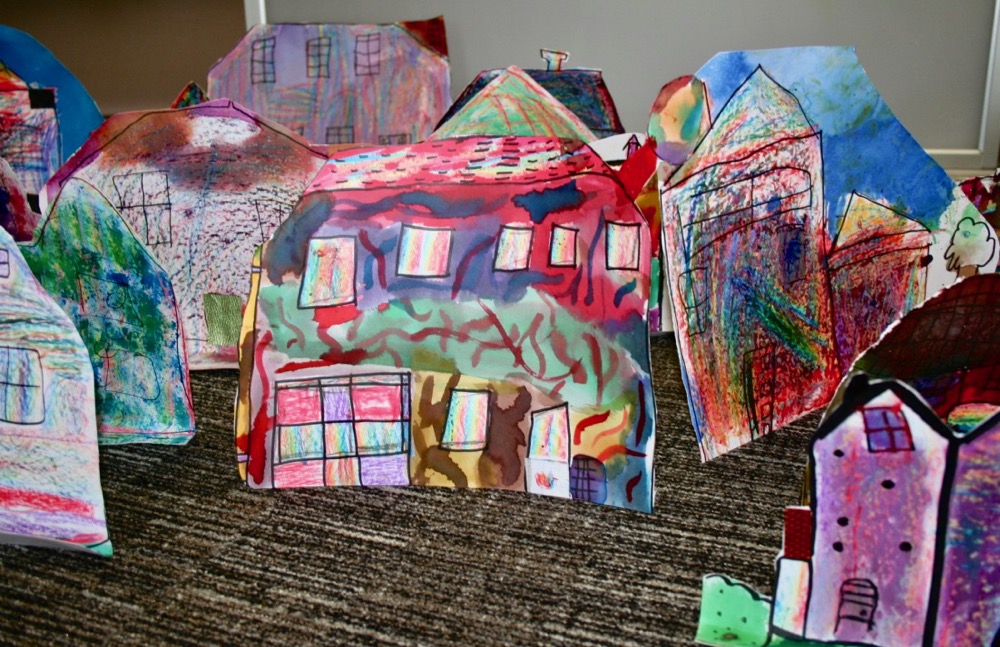 Why are Year Five Berry Hill pupils so special to AccessArt?
Last year, when this group of pupils was in year four, AccessArt had the very great pleasure of receiving envelopes in the post, from all over the country, and beyond, containing stitched contributions for the AccessArt Village – including envelopes from the Inspire Arts team, Notts.
You can read more about the AccessArt Village here, but this is the story of one group of children, who generously contributed to the project, and then got a chance to see their work on show, locally to them, in Mansfield Central Library. You can read more about Inspire Arts and the exhibition in Mansfield here. The pupils stitched work can be seen, in and amongst contributions from all over the country, at Mansfield Central Library until the end of December 2017.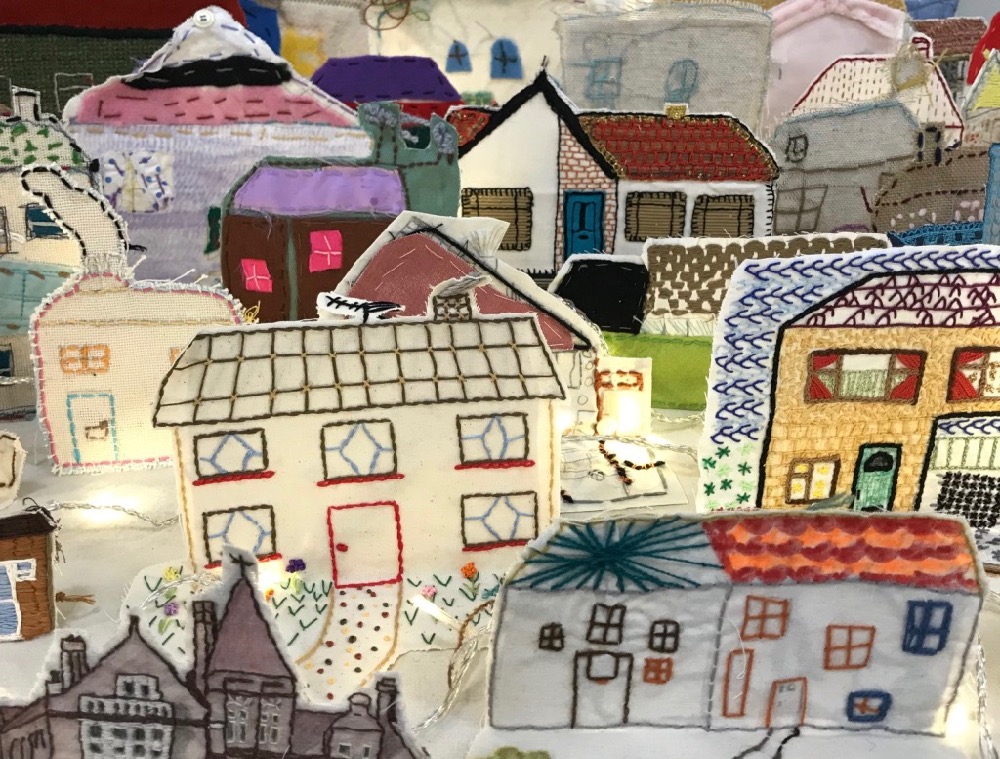 The workshop
Year five pupils from Berry Hill Primary school, had a day out, visiting the library, to see the AccessArt Village, so Sheila, keen to meet the young artists, offered to lead a workshop session for them there. The session, documented below, was repeated three times, each time for a group of twenty children. Each session was an hour long.
The aim of the session was to offer children the opportunity to make a new village, but this time for them to keep! This was also a chance to introduce children to some drawing techniques, wax resit and some fun creative processes.
Materials and tools/equipment used:
Micron card, permanent markers, chunky graphite stubs, Scolaquip Rainbow Crayons, pre-cut assorted collage pieces, Brusho Ink Crystals, glue sticks, water, pipettes, water spray bottles, sponges, paint brushes, glue, wooden blocks, scissors, paint trays for mixing the Brusho ink in.
To Start
Sheila led students on a guided drawing challenge. First, pupils were asked to close their eyes and try to visualise the outside of their own home, as though they were walking up to it. Then, looking through their mind's eye, to point their finger at it, and trace around its outline. This was hard to do!
Pupils were encouraged to fill the whole of their white, A3 micron card with the outline of their home.
They were then asked to go over their drawings using 'bold and energetic marks' with permanent, black marker pens, and then to enjoy mark making over that, with Scola's rainbow crayons.
It was explained to the children that applying marks with the crayons was part of a process called 'wax resist' and that wherever the crayons were applied, would create a block for inks which would later be applied. We explained that it was like 'putting a water proof jacket' over some areas of the drawing.
Collage
Also made available was a pile of assorted, pre-cut collage pieces. Some children really enjoyed adding elements to their houses and used collage to add details such as curtains, drain-pipes and windows.
Applying Brusho!
This was when the fun really began, children visibly enjoyed experimenting with Brusho ink. They especially liked using pipettes to draw the ink up and apply splashes of colour over their drawings.
The Brusho colours were bright, luminous and very pleasing to the eye.
Children also enjoyed applying ink with sponges and paint brushes.
Sheila demonstrated how they could use water spray (also a huge hit with the children!) to disperse and blend the ink on the card.
Making the Year Five, Berry Hill Primary AccessArt Village
The final task was to cut the colourful homes out and add a wooden block on the back to make them stand up (as was done in the creation of the AccessArt Village by artist Andrea Butler).
Many Thanks
A very special thank you to all sixty year five pupils from Berry Hill Primary in Mansfield, who participated in this workshop and for their wonderful, and important, stitched contributions to the AccessArt Village.
A huge thank you to the Inspire Arts team; Helen Ackroyd, Sarah Baker and Lucianna Gallucci, who brought the AccessArt Village Project to Nottinghamshire and, in particular to Sarah Baker who co-ordinated the day. Thank you also to Sarah Baker, Lucianna Gallucci, Helen Ackroyd and Corinna Brown, for sharing photographs from the session with AccessArt.
Thank you to Lilly Feeney for her work on the day… This workshop would not have been possible without her energy and enthusiasm!
Many thanks to Nottinghamshire County Council's Inspire, Culture, Learning and Libraries for facilitating the AccessArt Village in Nottinghamshire and Mansfield Central Library for hosting the village on its nationwide tour.
Many thanks to Rosie James, who introduced AccessArt to Brusho Crystals!
And also Scolaquip, who contributed rainbow crayons for the session.
The AccessArt Village, including this workshop and the tour, has been coordinated and delivered by #TeamAccessArt on a voluntary basis with no core or revenue funding.
UK Charity AccessArt has over 750 resources to help develop and inspire your creative thinking, practice and teaching.
We believe everyone has the right to be creative and by working together and sharing ideas we can enable everyone to reach their creative potential.
AccessArt welcomes artists, educators, teachers and parents both in the UK and overseas.
---
Sign up to receive our email newsletter. By completing the form below you explicitly agree for us to send our email newsletter to you. We will not share your information with anyone else and you can unsubscribe at any time!

Add to favorites