By Paula Briggs
This resource forms part of a series which enable primary-aged children to explore drawing and making inspired by Maurice Sendak's "Where the Wild Things Are". See all the resources in this series here.
In this session (the last in the series), children complete their sculptural "wild things" by covering them in modroc, and then returning full circle to where we started in week one by exploring mark making and collaging imagery over the sculptures to give them Maurice Sendak inspired character.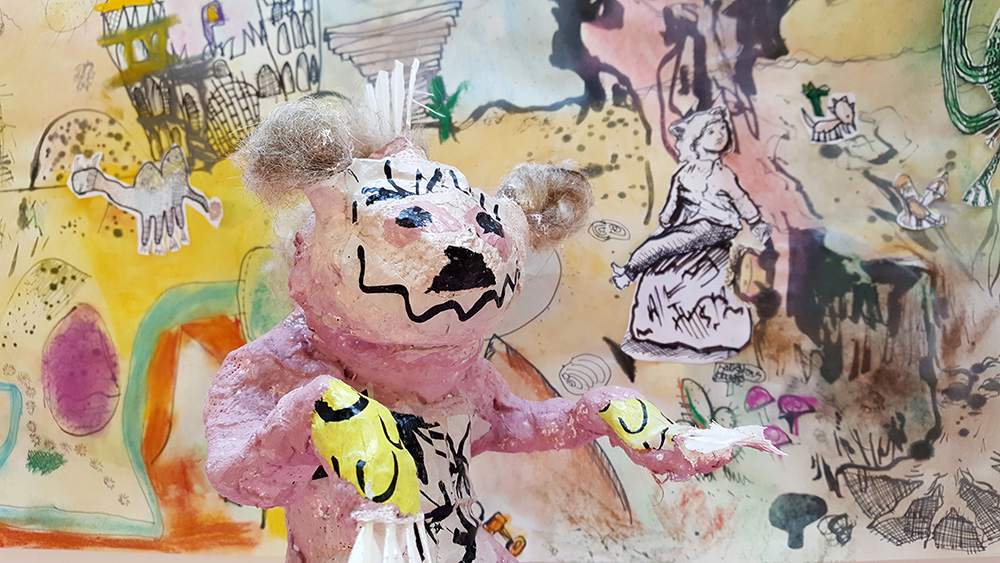 You Will Need:
Modroc
Scissors
Buckets and pots
Newsprint
Acrylic paint
Black ink, quills and brushes
PVA glue
Brushes
Images from "Where the Wild Things Are" by Maurice Sendak
Time: 1 – 2 hrs
Outcome:
The opportunity to experience working in modroc.
The opportunity to explore how mark making can be applied to a 3d surface.
A completed "wild thing" sculpture.
A sense of how you can be inspired by the work of an artist (in this case the illustrations of Maurice Sendak) and build an understanding of the work, whilst still enjoying your own journey and producing your own work, rather than a pastiche.
To Begin:
To access all content, I would like to join as…
AccessArt is a UK Charity and we believe everyone has the right to be creative. AccessArt provides inspiration to help us all reach our creative potential.
---
Part 1 – Covering the Armature with Modroc
Following the directions here on How to Use Modroc we covered the armatures we made during the last session. To help the sculptures stand, we encouraged the children to modroc the feet and legs of the wild things first and work upwards.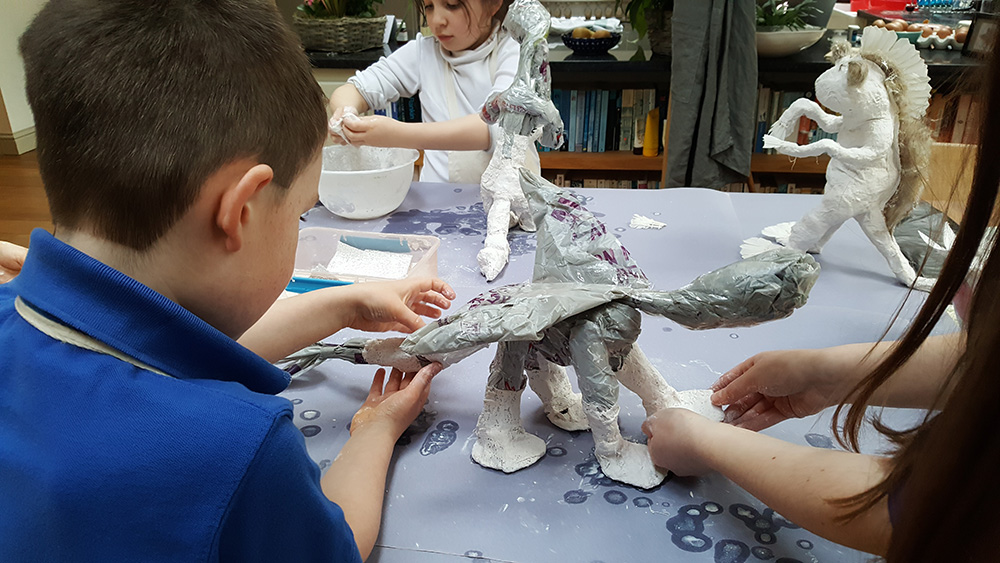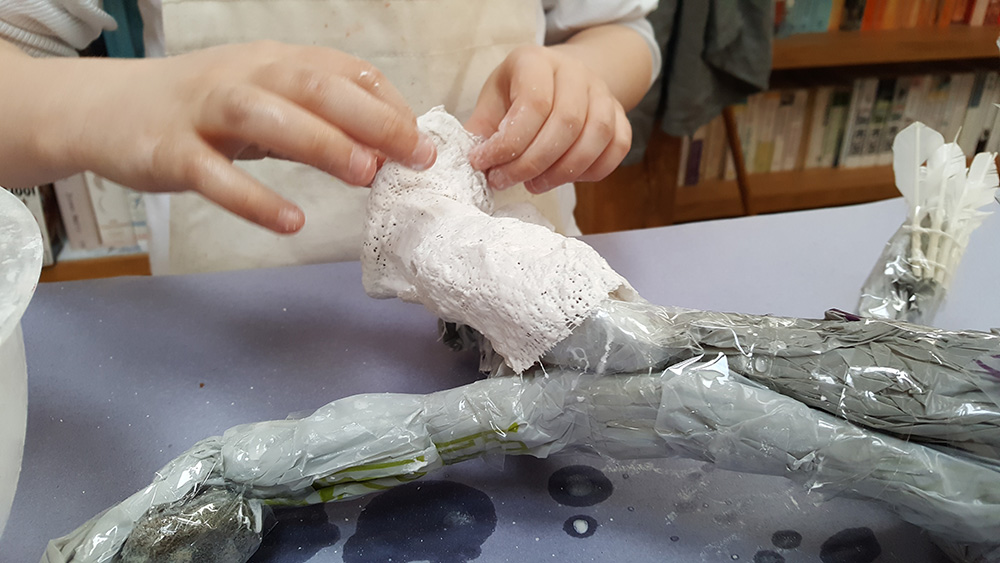 Any parts of the sculpture which need help balancing can be weighted down before the modroc is added, for example we used pebbles on the table of this wild thing, which was just enough to help balance the sculpture.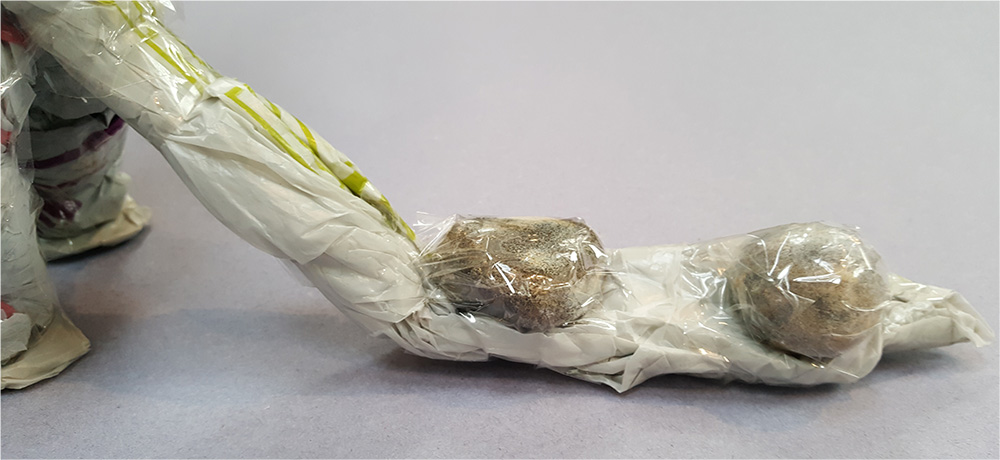 Once the whole sculpture was covered children were invited to add details with small pieces of modroc such as these claws. The modroc can be used as tape to attach details like these.
A finished, modroc "wild thing", ready for the next step…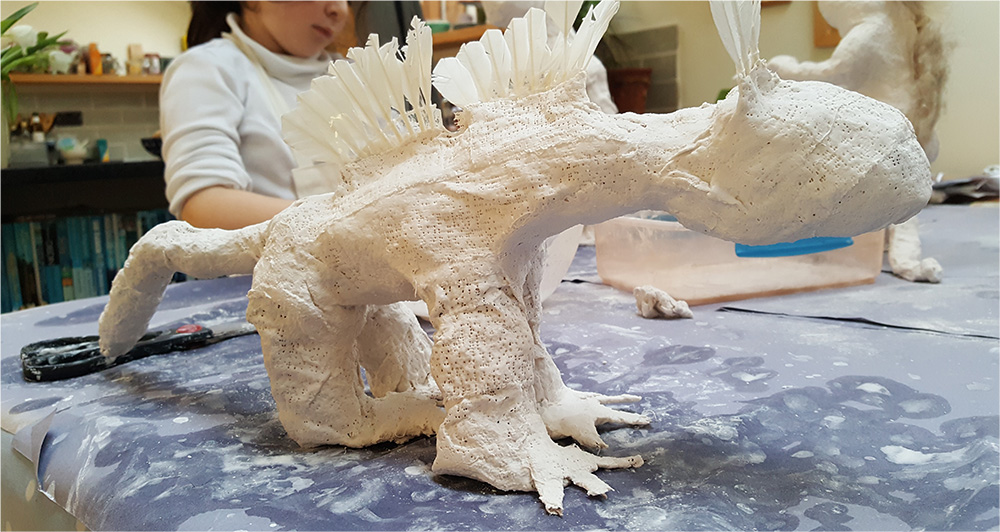 Part 2 – Making Inked Sheets (ready for collaging over the modroc)
Next we created patterned sheets which we would use to collage over the modroc to add colour and detail.
First of all we painted newsprint with diluted acrylic paint. We used newsprint because you need a thin paper to shape itself over the modroc form, and we used acrylic paint because you don't want the paint to run when you add water and pva glue later on (acrylic paint is waterproof). We mixed colours of acrylic paint which were inspired by the colour palette of Maurice Sendak in the "Where the Wild Things Are" drawings – "sugary" colours of yellow, grey, pink, born, blue.
We also made sure we mixed plenty of this paint as we would also use it to cover the modroc.
Children worked together to paint the newsprint sheets (i.e. they had no ownership over which sheet was theirs).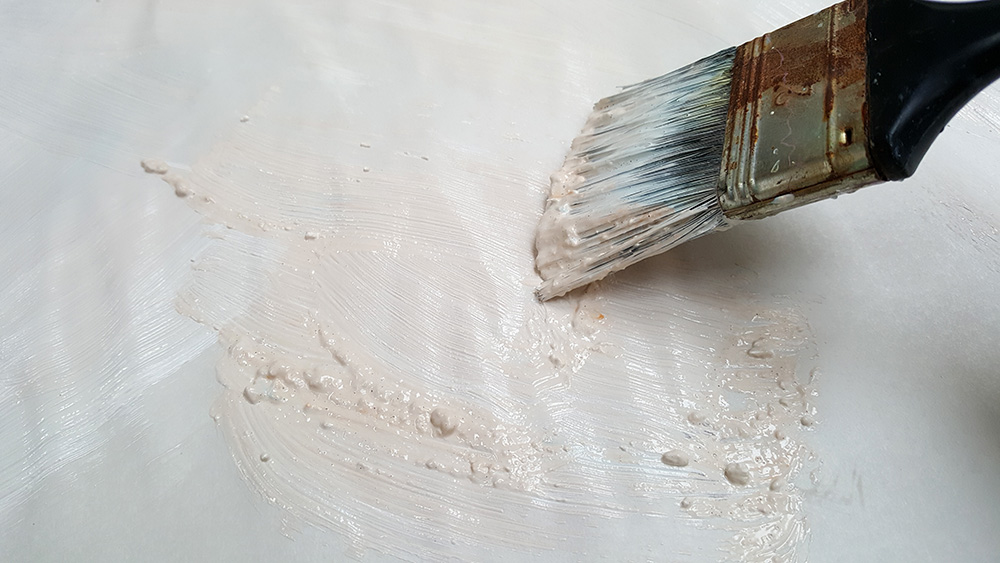 We also added different tones of paint over the initial layer to give the sheets texture…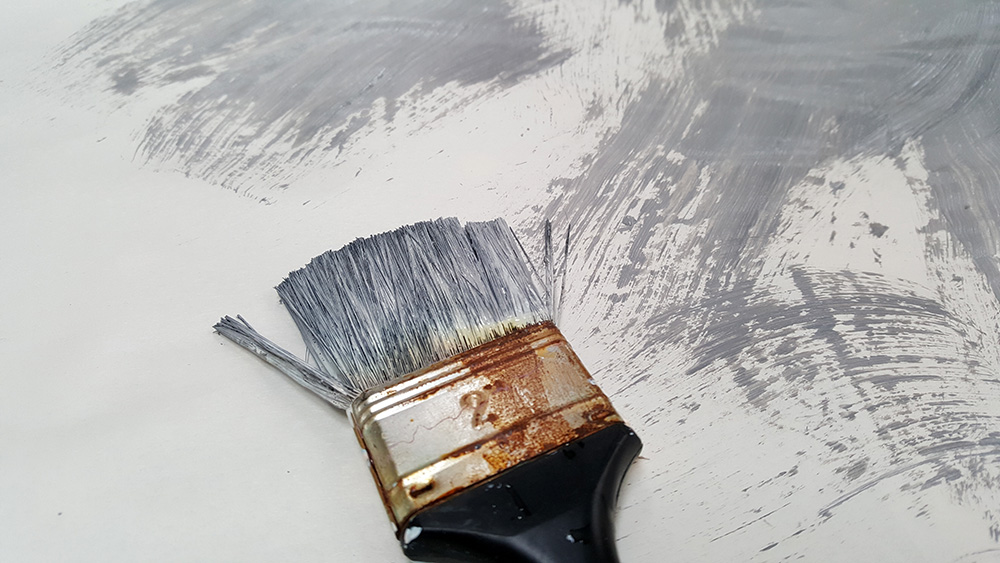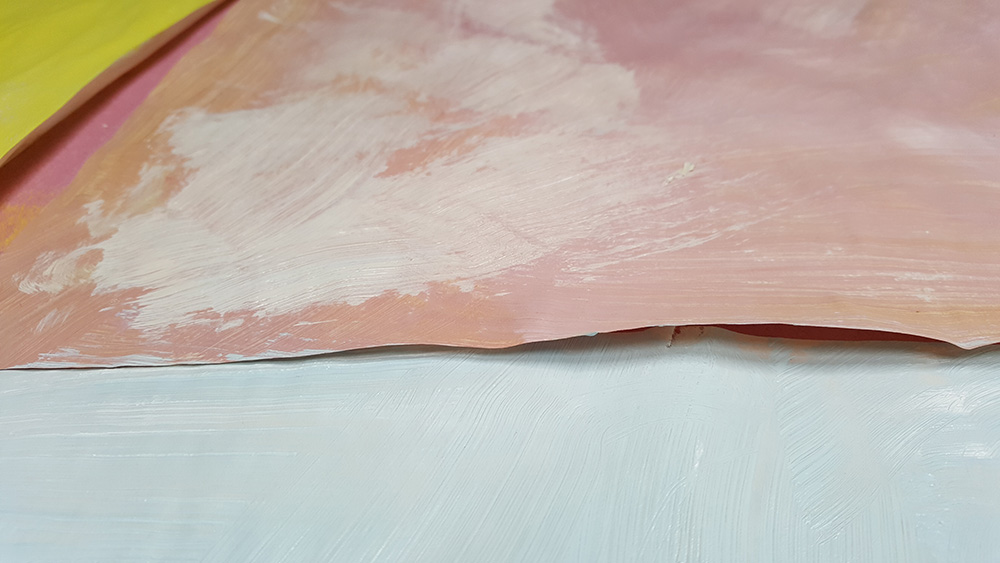 Once the paint was dry, we used black ink and quills and brushes once again, just as we had in week 2, to create a whole variety of marks on the newsprint sheets. Again we worked together to create shared marks. I prompted them to encourage them to remember all the different kinds of marks we had made earlier, inspired by Sendak's mark making.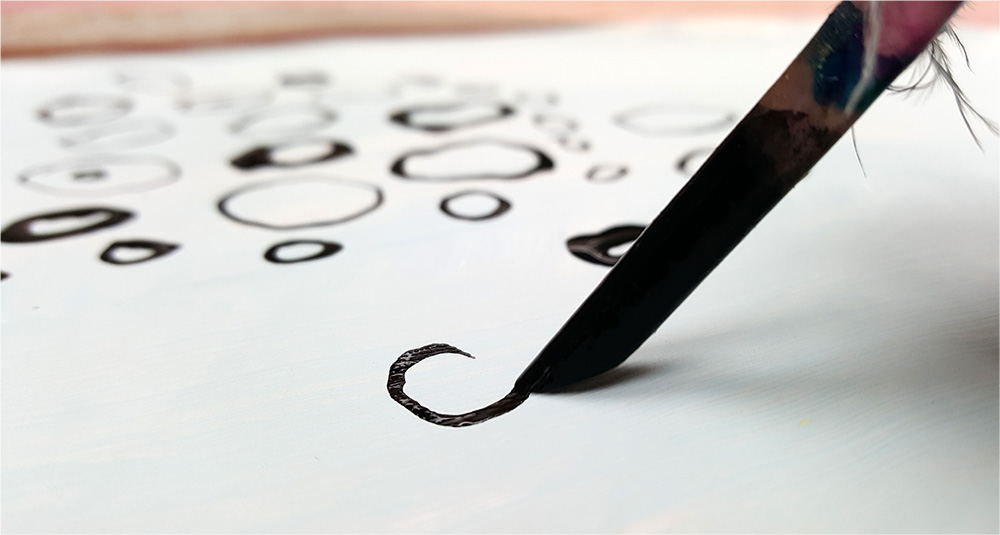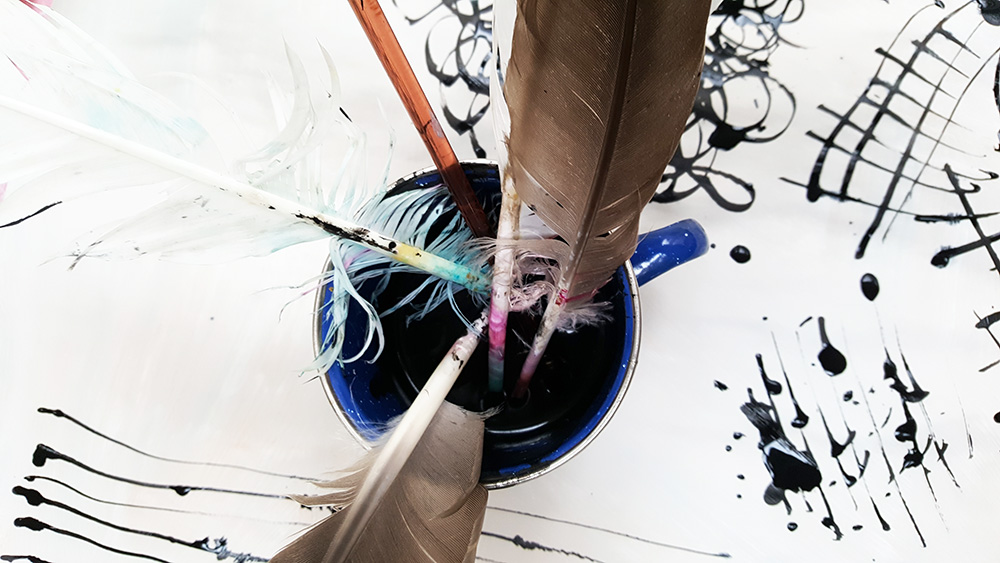 Part 3 – Collaging over the Modroc
The next step was to use the diluted acrylic paint to paint our modroc sculptures. In effect, this was a base coat of a similar colour to the newsprint sheets, so that we wouldn't have to collage over the entire sculpture. Instead we were free to cut or tear parts of the patterned sheets and paste them on to the sculptures as a way of adding detail and character…
The easiest way to attach the patterned sheets to the sculptures is to tear a piece of paper, and then crumple it. This helps turn the 2d piece of paper into a softer "3d" shape which will be more malleable. Uncrumple the paper and paste it with pva glue.
Then, using a brush, paste it onto the sculpture, adding more pva glue over the top. The children will need to apply quite a bit of pressure to "persuade:" the paper to follow the contours of the sculpture, and they will need to keep going over it for a few seconds. But there's nothing wrong with a bit of hard work and the effort will be worth it!
Finished Wild Things!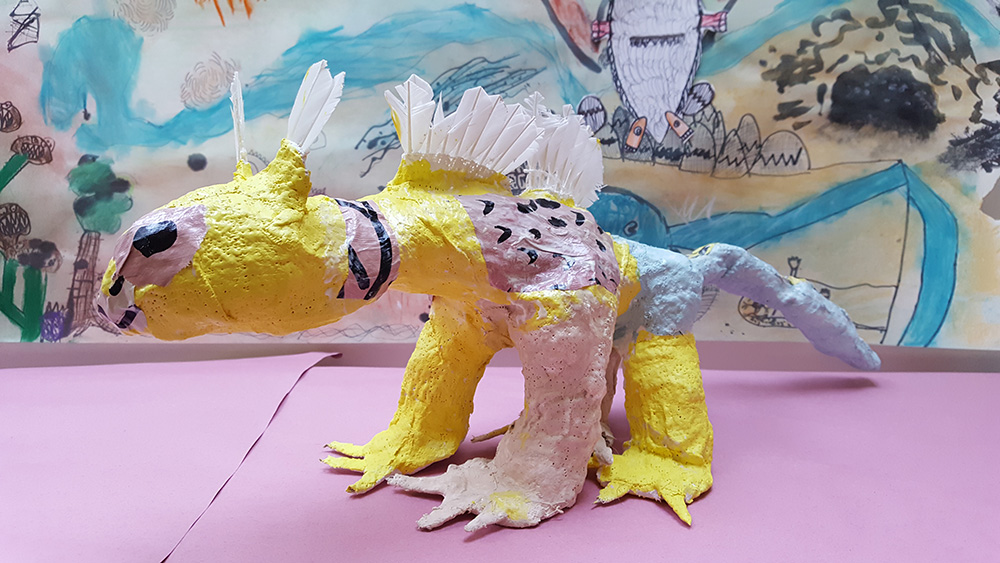 There was something very satisfying about returning to the mark making of week one, and applying these marks to a 3d surface, and really bring our "wild things" to life!
Well done to the children aged 7 and 8 who took part in this drawing and making marathon!
[/MM_Member_Decision
Add to favorites