By Sheila Ceccarelli
It was a beautiful day and a perfect opportunity to work outside so we decided to get right in on day 1, of AccessArt's two week residency at Red2Green, and start with mark making into clay, mould making and casting.
Students at Red2Green showed no inhibition to working with wet clay and enjoyed the process of mark making into it with clay tools and pressing found natural and made objects including shells, twigs, leaves, string, lace into its surface.
Students were encouraged to work into a basin shape or build walls around their work, strong enough to hold liquid plaster which would be poured into the moulds.
Students completely engaged with the processes and enjoyed mixing and pouring plaster and were delighted with the results.
---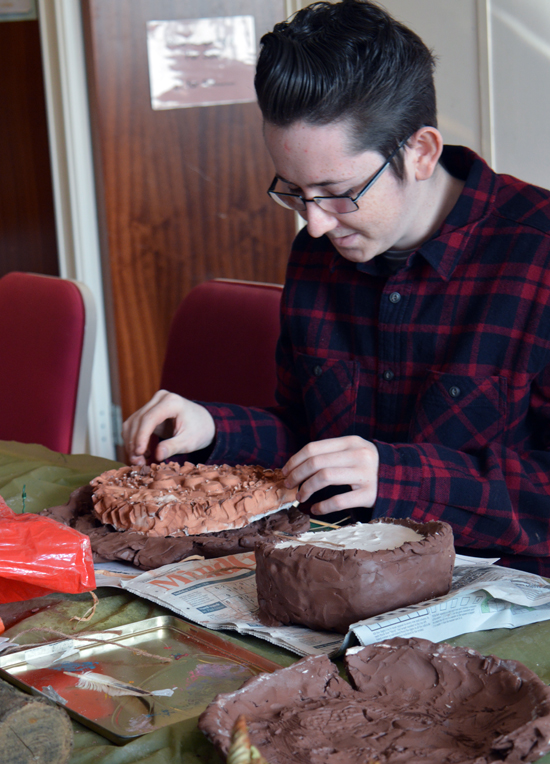 Many thanks to students and staff at Red2Green for giving permission to AccessArt to document the session.
---
Aspire to Create
In autumn 2015, AccessArt was invited to lead a series of practical workshops as part of an Arts Council, Grants for the Arts project, Aspire to Create which was managed and delivered by Red2Green. 
Red2Green is a 'Cambridgeshire charity providing services including learning, leisure and work opportunities for adults with a wide range of disabilities.' 
To see all eight workshops in this series, tailored for adult learners, and exploring drawing, casting, printmaking, sculpture and colour, please refer to the Aspire to Create launch page here.


Add to favorites