By Paula Briggs
This resource shares the making of one of the ogre scenes in the teenage produced #BeACreativeProducer project. In this scene we wanted to create a character (an ogre) which felt diminished by the talent of those around him. We choose Michelangelo's Sculpture of David as being symbolic of a "great" piece of sculpture, and a potato head as symbolic of a character which didn't have much confidence.
We used a revolving stage which had been designed specially for the project, and painted one third white to represent a gallery. We printed a copy of Michelangelo's David onto card, cut him out, and mounted him on a plinth made from two building blocks. One of the most important elements in this animation was the relationship between the potato head and the sculpture, so we deliberately made the sculpture taller than potato, and kept the stage clear of other props.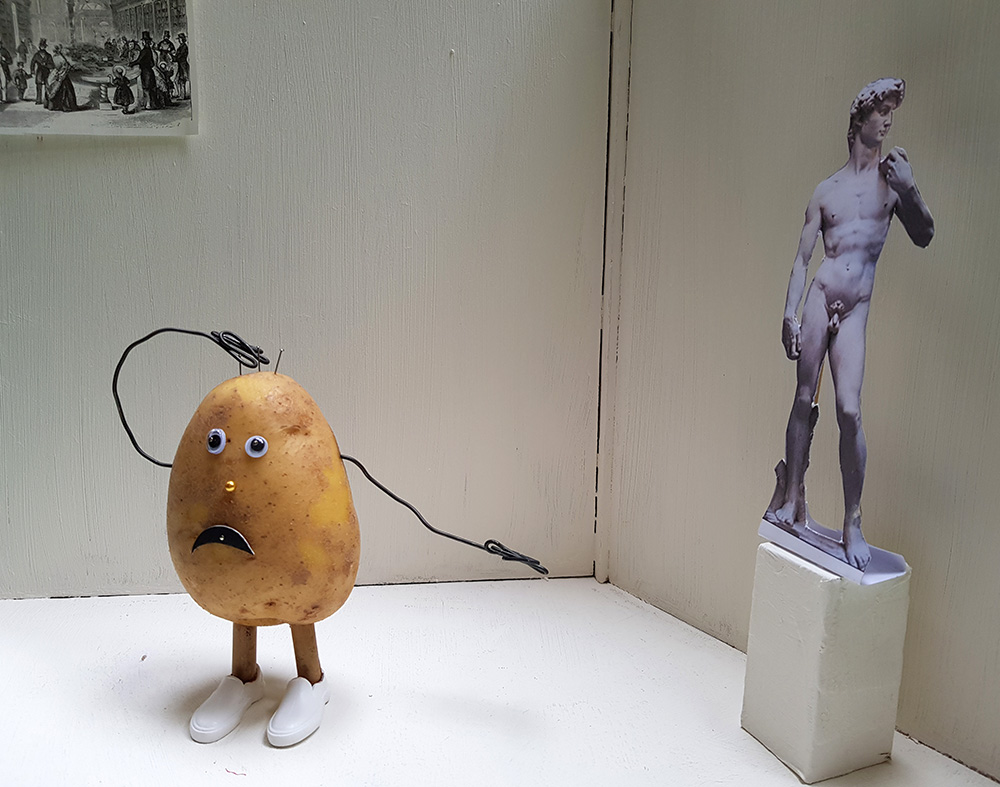 Mr Potato head was helped stand by pushing two lolly pop sticks into his body, to act as short legs. We then glued Ken's shoes (from Ken and Barbie) onto the lolly sticks. We made simple eyes from googly eyes attached by pins, and two versions of a cardboard mouth, again attached by pins. His arms were made from modelling wire, which we made long enough to give us options for arm positions – his arms, eyes and mouth were going to be his only way of communicating his feelings and personality.
The animation was filmed on a tablet, using a tripod and Bluetooth shutter, using the Stop Motion app. As only the potato itself would be moving, it was a fairly simple animation, though it did involve thought and experimentation as to how we could get the potato to convey a feeling of being overwhelmed and dismissed at the thought of someone else's creative output.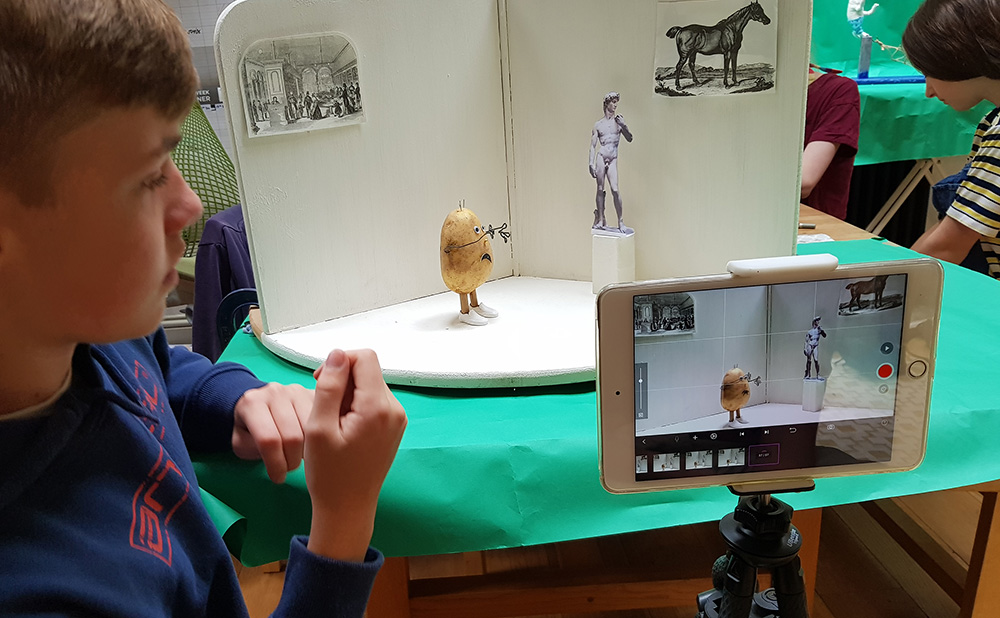 The clip was then exported to iMovie to be edited into the larger clip shown below.
Many thanks to Alex, Lluis and Immy from the #BeACreativeProducer team.
---
Sign up below to receive email updates from AccessArt. AccessArt promises not to share your information with anyone else and you can unsubscribe at any time!
---
This is a sample of a resource created by UK Charity AccessArt. We have over 750 resources to help develop and inspire your creative thinking, practice and teaching.
AccessArt welcomes artists, educators, teachers and parents both in the UK and overseas.
We believe everyone has the right to be creative and by working together and sharing ideas we can enable everyone to reach their creative potential.
Join AccessArt from only £3.50 per month and enjoy full access to hundreds more resources!
Join Us!
Add to favorites