By Paula Briggs
This resource shares the making of a small clip from the How To Be A Creative Producer animation Project.
In this scene, Alex, one of the teenage #BeACreativeProducer team members, developed his digital skills by working across iMovie and Photoshop to extract single frames from a movie, hand colour them in Photoshop, and then import them back into iMovie to complete the animated scene.
We used the technique as a visual to an aural backdrop of the teenagers working collaboratively on their musical composition.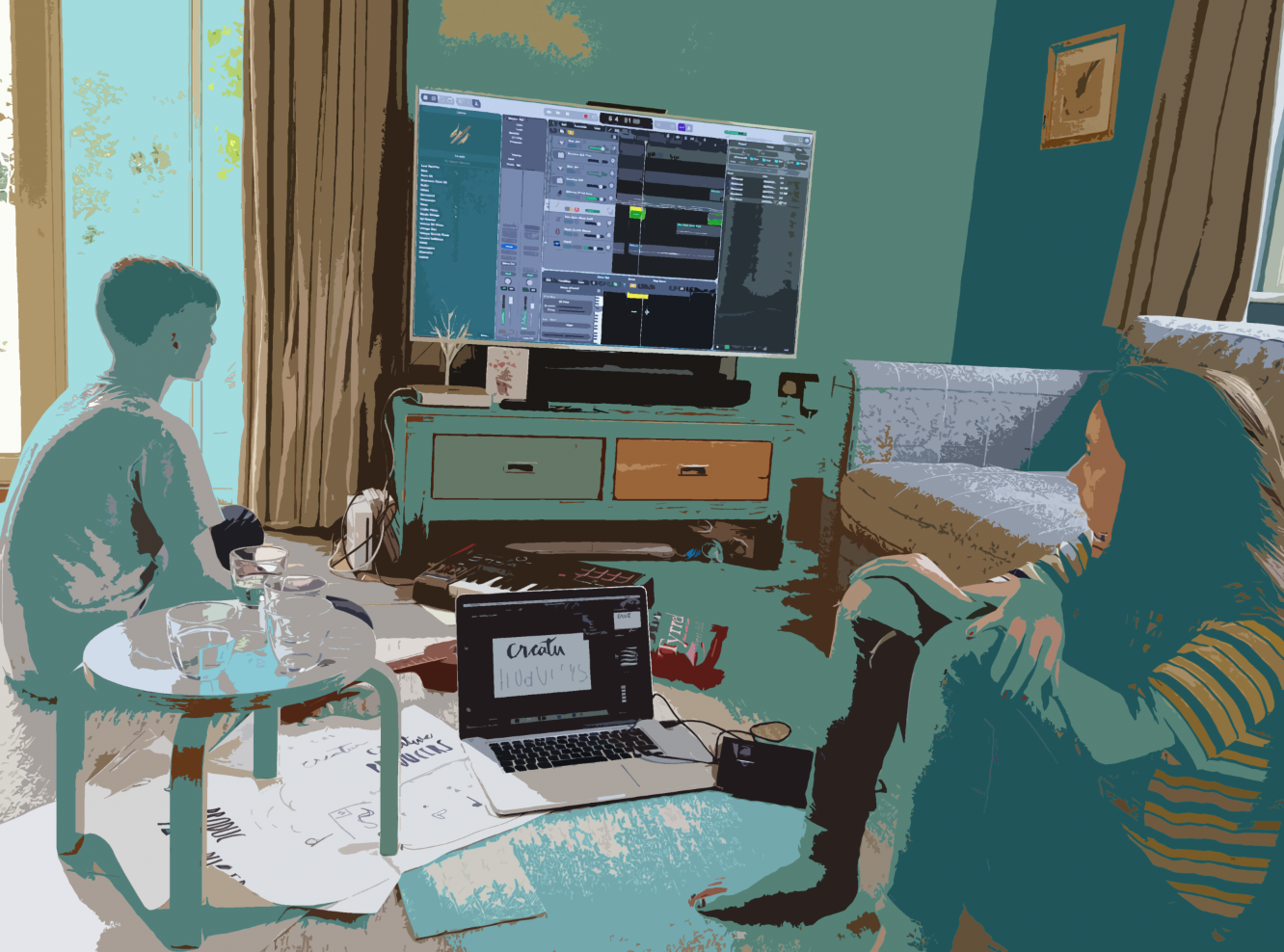 The method is fairly simple once a methodology is set, and the technique has lots of potential.
To Begin
For this scene we wanted to illustrate a sound file in which the team members could be heard collaborating on the composition of the theme tune for the #BeACreativeProducer project. We needed visuals to accompany the sound file.
The first step was to film short (5 second) videos of hands working on the collaboration (i.e. using electronic and piano keyboards, and using music composition software).
Extracting Images in iMovie
These videos were imported into iMovie (or other video editing software) and using the "File > Share as > Image" command to choose and extract single images from the video. For each 5 second video we extracted between 15 and 40 sequential images, saved in order (i.e 1.jpg, 2.jpg…)
Importing Images into Photoshop
The next step is to import the files into Photoshop to hand colour each frame. Working on the images in order, Alex followed the steps below:
1. Open file
2. Choose "Filter > Filter Gallery" then under "Artistic" choose "Cutout". See below for levels/edge simplicity etc settings. Applying this filter simplifies the colour in the image, making it easier and more effective to hand colour each frame.
3. Click OK
4. If you're not happy with the result, you can either use "Edit > Undo" OR, if you want to go back more steps at any time, make sure you have "History" open (via "Window > History") and the you can scroll back through every action since last save and click on any stage to revert to that time.
5. You can change the cutout filter settings and increase the number of levels (i.e. in dialogue box above). Even just changing the setting from 4 till 5 can help establish a more "readable" image. However, the higher you go, the more intricate you will make the image, potentially making the next stage more complex…
6. When you're happy with your filter result, click "Save"
7. Using the panel on the left hand side, click on the colour square.
8. This brings up the colour picker tool:
9. Choose a colour and click"Ok"
10. Then select the paint bucket tool from column on left:
11. Click on areas of your image to fill tones with that colour. Pls note that it will react according to the lightness or darkness of the tone you click on, so the same colour will have several shades…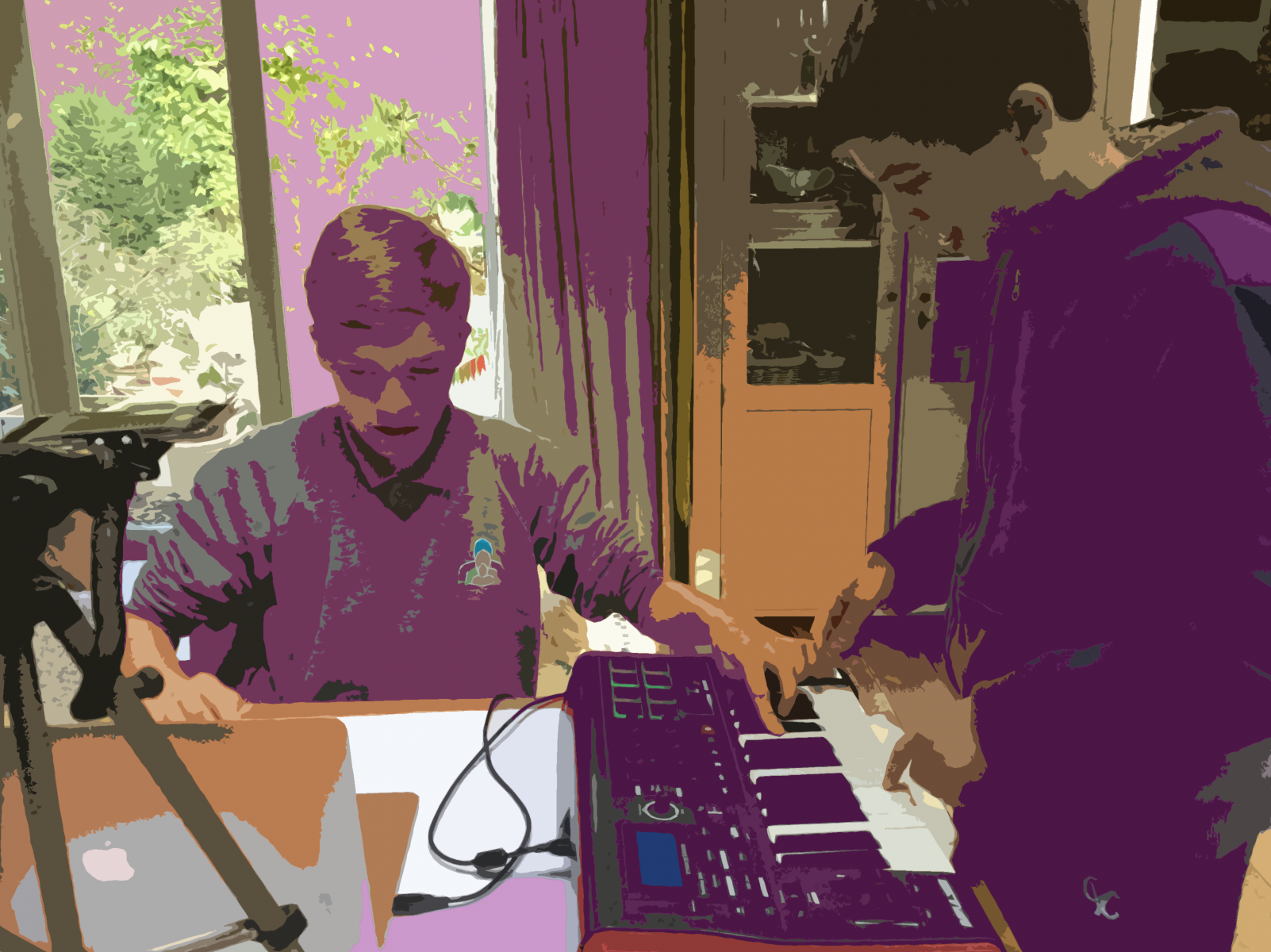 12. If you need to, use the zoom tool to zoom in to help you select areas to colour, using "View" > "zoom"
13. Try to be aware of keeping a balance of dark and light in your image. You might want to go back to colour picker to choose another colour, but generally only work with one to 3 colours (and all their tones). Leave plenty of areas as they were (ie don't colour whole thing). The more you colour, the more you will lose edges and definition, so don't over work… Always leave some white/light if you can.
14. When you are happy click save and this time save in a new folder, again in sequential order.
Importing the modified images into iMovie
The next step is to import the modified images into iMovie to complete the animation. This is achieved by using the "File >> Import Media" command. Once imported, drag the images in sequence to the time line.
Highlight the images in the time line to set the image duration. We found that a duration of 0.2 seconds worked best in the animation below.
We also added sound and image captions.
Enjoy the final animation!
You can find Alex as X-Toll on SoundCloud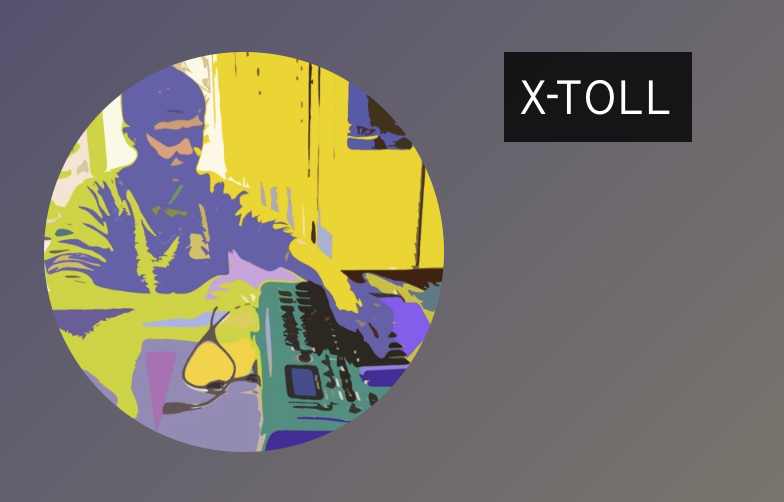 ---
Sign up below to receive email updates from AccessArt. AccessArt promises not to share your information with anyone else and you can unsubscribe at any time!
---
This is a sample of a resource created by UK Charity AccessArt. We have over 750 resources to help develop and inspire your creative thinking, practice and teaching.
AccessArt welcomes artists, educators, teachers and parents both in the UK and overseas.
We believe everyone has the right to be creative and by working together and sharing ideas we can enable everyone to reach their creative potential.
Join AccessArt from only £3.50 per month and enjoy full access to hundreds more resources!
Join Us!
Add to favorites