By Paula Briggs
In this session as part of the How To Be A Creative Producer Project, teenagers worked to design, sew and later paint a pair of dungarees. In addition to learning new skills, and designing through making, teenagers explored mark making in response to marks made by others, as the dungarees were transformed from a plain canvas to a finished project.
The teenagers wore the t-shirts we had screen printed earlier.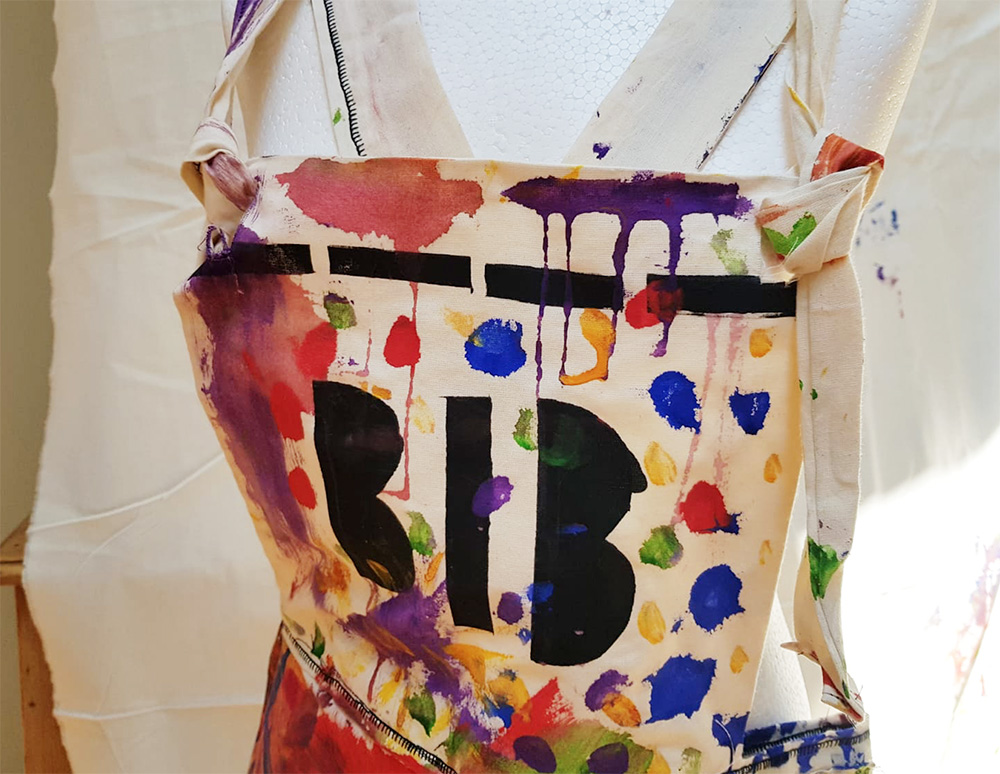 To Begin
You will need:
Paper pattern for dungarees
Calico
Thread
Sewing Machine
Pins
Tailors Dummy
Poster Paint
Brushes
Paint Pots
Part One: Construction
The pattern pieces were cut from calico as I wanted the teenagers to feel like they were working with a blank canvas.
Once the pieces were cut, we screen printed some of them with simple words relating to the anatomy of the dungarees, and symbols relating to the process of sewing. I hoped that these would help inspire the design process later in the session.
The teenagers were then given a quick lesson on using the sewing machine, and introduced to the variety of stitches available to them. I wanted them to sew the dungarees together in a functional way, not getting hung up on perfection. I wanted them to appreciate that clothes are of course three-dimensional objects which are made from two dimensional shapes, carefully cut to be transformed into forms once stitched together. I also asked them to start to think about mark making right from the beginning, in the form of the more elaborate stitches available to them, and where they would use these stitches.
All teenagers took their turn sewing and pinning until the dungarees took shape (we didn't tack). Design decisions were made as a group along the way, i.e. were does this pocket go, how will the straps work, how long will the legs be).
The whole session was filmed on the iPad for the How To Be A Creative Producer project, for a planned animation about collaboration.
The dungarees were tried on and modified if needed.
Once the dungarees were constructed, we moved on to Part Two.
Part Two: Non-Verbal Communication /Painting the Canvas of the Dungarees
Using colourful poster paint, the teenagers were invited to paint marks on the dungarees. I asked the teenagers to remain silent and to take it in turns individually or in groups of 2, to add their marks, thinking carefully about how they would paint the dungarees in response to marks made by other people. I asked them to think of the dungarees as a three-dimensional paint canvas, which they all had equal ownership of. This was to be a considered, thoughtful part of the session, after the noisy and activity of Part One.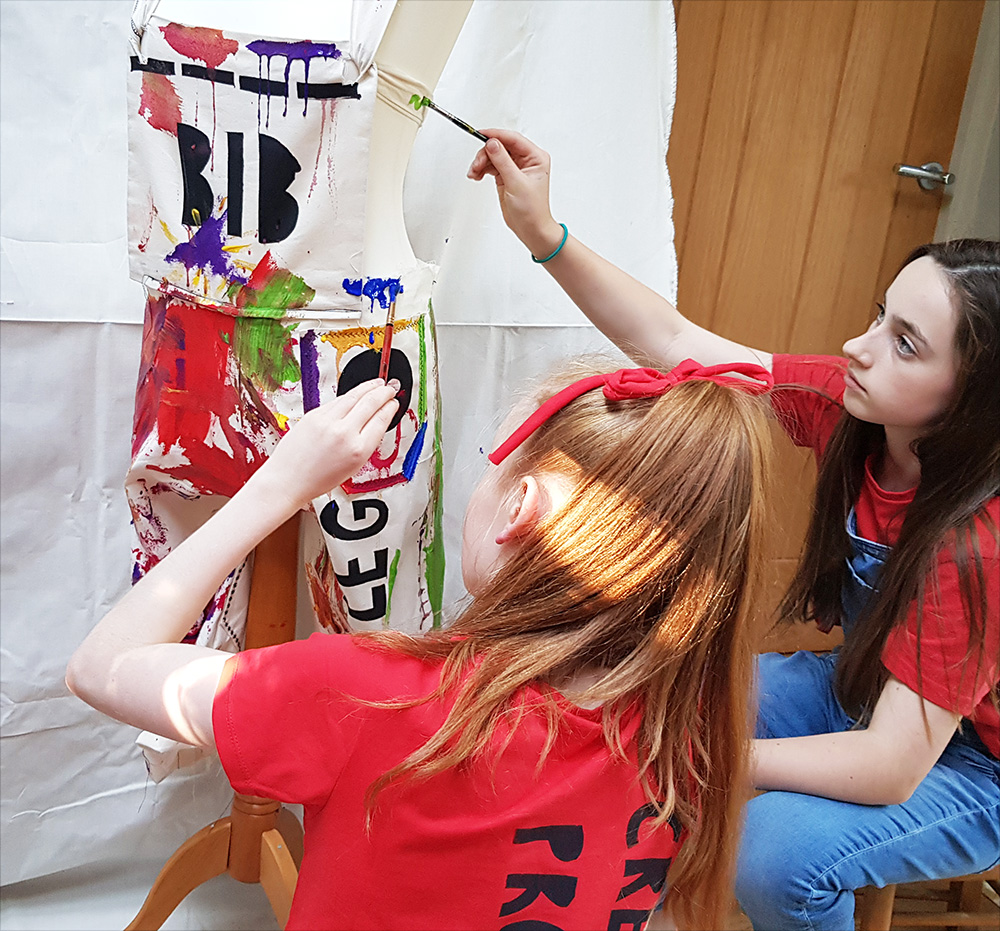 The finished dungarees…
---
Sign up below to receive email updates from AccessArt. AccessArt promises not to share your information with anyone else and you can unsubscribe at any time!
---
This is a sample of a resource created by UK Charity AccessArt. We have over 750 resources to help develop and inspire your creative thinking, practice and teaching.
AccessArt welcomes artists, educators, teachers and parents both in the UK and overseas.
We believe everyone has the right to be creative and by working together and sharing ideas we can enable everyone to reach their creative potential.
Join AccessArt from only £3.50 per month and enjoy full access to hundreds more resources!
Join Us!
Add to favorites