This resource helps teachers of ages 5 to 11 plan how to develop drawing in the National Curriculum. It begins with guidance notes and ends with a selection of links to resources which teachers will find beneficial in introducing or developing drawing in the National Curriculum.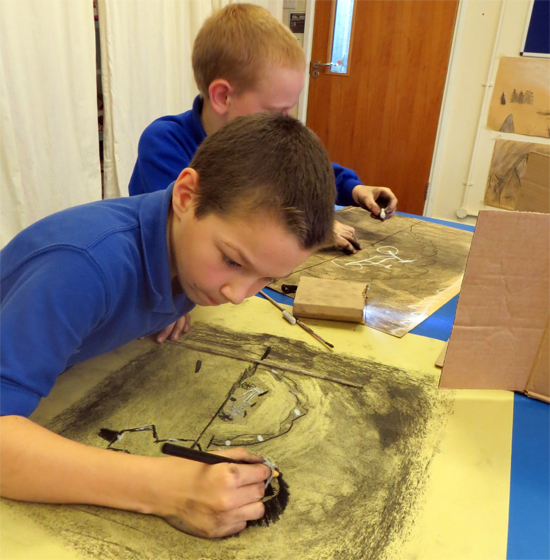 AccessArt advocates:
Access to varied drawing materials from the outset. There is no reason why children should not be introduced to a varied range of drawing materials from Year One. The more experience children have of using a wide range of material the more they will feel able to make independent, confident, drawing decisions.
Traditional drawing skills, including drawing from observation, should be balanced alongside more experimental drawing skills. Drawing comes in many forms and each form should be equally valued.
Children should be given the opportunity to work on a variety of scales. Drawing can be physical as well as studious. Drawing should be an adventure.
Use of Sketchbooks as a Creative Tool. The sketchbooks should be owned by the pupils, and should be at the centre of the pupils' creativity. Sketchbooks can be used to gather, collect, experiment and reflect. Teachers should not be afraid if sketchbooks seem chaotic – adult sketchbooks are often chaotic – they are a place to put unresolved ideas into the world, which can be assimiliated later. Sketchbooks are rarely linear. Explore all our sketchbook resources here.
Teachers should not be afraid to approach drawing as a "journey", in which the process is as important (sometimes more) than the outcome. Working from a "display-backwards" mentality (where a teacher has an idea of an end result in mind) often jeopardises the true creative journey.
"Starting points" (in terms of materials, exercises and subject matter) should not be seen as something to progress away from. Creative adults return to fundamentals time and time again. Pupils should be encouraged to revisit key exercises time after time to build knowledge and experience. There is no linear progression in drawing, only a gathering of experience and intention.
Children should be encouraged to understand the value of taking creative risks in their work. See more about Understanding Risk here.
AccessArt Resources to Support Drawing
AccessArt is an evolving collection of resources and further resources are being added over time. Please register with AccessArt to receive updates.
Please Note:
The resources below are NOT presented in any kind of prescribed order of use. Although the "Introductions to Materials and Warm-ups" provide valuable starting points, equally, many of the drawing projects in the Observation or Experimental drawing sections provide equally valid starting points. Drawing is a cyclical process and pupils of all ages will benefit from the wide variety of exercises and projects listed below, and teachers should feel able to repeat the activities in and with a variety of age ranges.
Introductions to Materials & Warm-Ups
These resources encourage an exploration of drawing materials. As a pupils understanding of drawing materials evolves, these activities will evolve into more Experimental Approaches (below).
Drawing from Observation
The resources in this section begin with nurturing observation skills. There is a point at which, in every drawing, the focus moves from the subject matter to the drawing itself, as the drawing takes on its own life. Many of these resources then move from observation towards an exploration of the drawing medium involved (see Introduction to Materials above).
Experimental Approaches
The resources in this section acknowledge that pupils will be undertaking their own "drawing journey" in which they will be making their own drawing discoveries. These experimental approaches will help pupils look at drawing in its widest possible sense, and help them to further manipulate materials and subject matter.
Add to favorites