By Paula Briggs
Think of a person from your childhood who gave you permission to make.
A parent, grandparent, teacher?
How did they give you permission to make?
Perhaps they provided you with space – a physical space in which you could make. A table top, a corner of the room, or in my case, my mother sat me on a tall stool at the kitchen surface, passing me what I needed, and helping me down when I had finished.
Perhaps they made time for you to make. Carved time in a busy day with the message "making is a good thing to do".
Perhaps they provided you with materials, tools, ideas…
Perhaps they valued what you made, or saw that making made you feel good.
Or perhaps you gave yourself permission to make. You made something, realised it felt good to connect hand, eye and brain in the act of transforming materials, and gave yourself permission to do it again and again.
Perhaps you didn't even realise anyone had given you permission, but just think for a moment. Would you have still made things if you hadn't had time, space, materials and encouragement?
Who helped turn you into an "artist" in the widest sense of the word? An artist as a person who looks at the world, becomes inspired, and acts to change the world, in however small a way.
The word "permission" might seem a strange choice to describe an activity that we as humans are inclined towards anyway.
But the problem we have at the moment, is that many children aren't being given permission to make.
First of all, let me just say that in lots of schools (and homes) there ARE many wonderfully talented facilitators enabling making. We see it all the time through AccessArt, and we're grateful for every single teacher, artist, parent and facilitator who is out there, making making happen.
But here's why some children aren't being given permission to make:
In some places we've dumbed down making to such an extent that we've driven it into a corner which we can conveniently hide. I blame the pompoms, glitter and pipecleaners. Don't get me wrong, those Baker Ross and Yellow Moon supplies are perfect for very young children (and do get them making), BUT at some point schools need to move on and recognise just what children are capable of. If we hold children back by the materials and techniques we provide, we give out the message that making is a disposable, easy activity. And then we can dispose of it. The message here: Be more aspirational and let making reach its potential.
Another word: Squeezed. We're all squeezed, including our children. Wrung out like tubes of toothpaste, and something has to give. At home, making is often the thing to go, whilst digital takes preference and at school, maths and english take precedence over art to such an extent that some school barely register that it's missing.
The single most important thing we can do (as parents, artists, teachers, facilitators) to help restore the balance, is to give someone permission to make.
When Sheila and I were at the RCA in the early 1990's, educational projects were rather looked down upon. When you graduated, if you found a studio in London in which to work (preferably a damp space in Brixton), or hung around on the private view circuit with the great and the good, or secured a job as a visiting tutor in an art school you were doing OK. But if you intended to work with primary-aged children in a school in Sheffield, as an artist educator, well that was a bit odd. I think people wondered why you had gone to the RCA in the first place. Where had your amibition gone? It was OK to want to support undergrads but if you aimed further down the food chain, wanting to work with children or teenagers it was seen as a soft option.
There was a feeling that artist in education projects were second rate, in comparison to the level of expertise or creativity needed to support students in higher or further ed. But Sheila and I couldn't understand this. Surely it was just as important to enable and encourage young children (who would after all be the next undergrads), and in any case, why shouldn't the way we facilitate making in children be just as creative, stimulating, challenging and rewarding as the way we facilitate making in young adults? Leading education projects as an artist was and still is hugely rewarding for Sheila and I, and not just in a philanthropic "giving back" kind of way, but also in terms of our own creativity. It challenged us, made us think, forced us to look more closely at our own creative processes and how we present and share them.
I'm pleased to say that now many art schools share this outward facing philosophy – and the Royal College of Art has its own extremely exciting and innovative ReachOutRCA, which encourages and enables postgrad students to make links and share their creativity with schools and in the community.
So, this is a call to action to artists, educators, facilitators, teachers and parents:
Let's make sure that when we think of artists working in education, we think of it as a role to aspire to, rather than a role to fall back on.

Let's make sure we communicate "making" aspiration to the children we work with.

And when we see a village hall or an after school club, or an art lesson in school, that we ALWAYS see an opportunity to deliver the most innovative, aspirational, creative session possible.
---
About Paula Briggs
Following the success of Drawing Projects for Children (Black Dog Publishing, London, 2015) Paula has just launched a brand new book aimed at encouraging and enabling making in children aged 5 to 12: Make, Build, Create (Black Dog Publishing, London 2016), which also includes The New Manifesto for Making.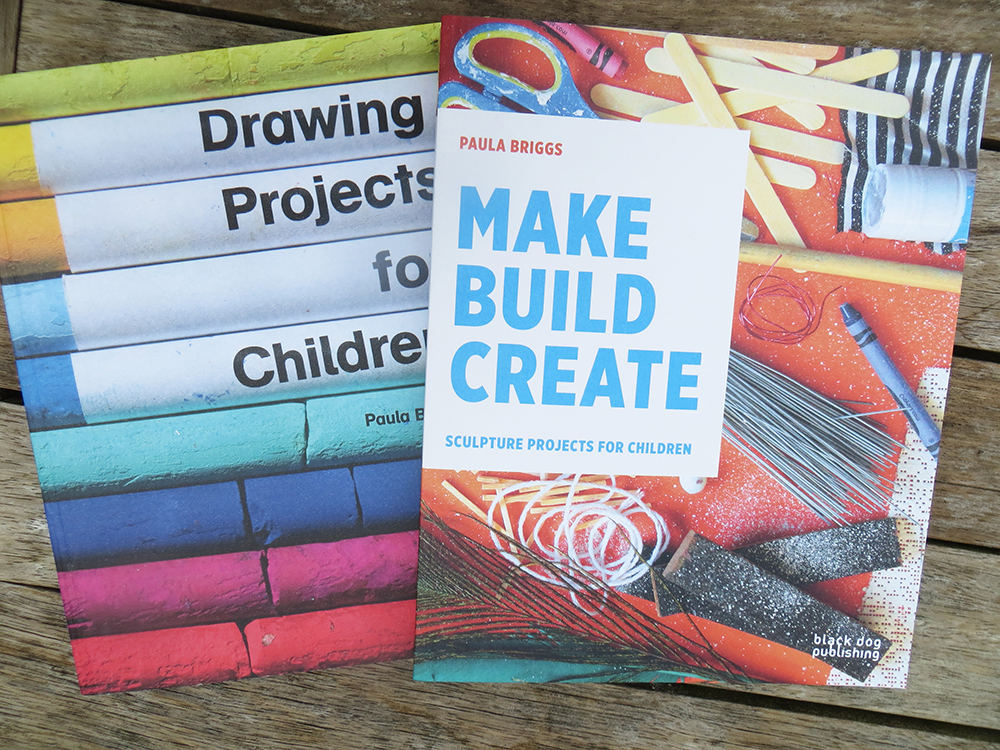 Find out more about AccessArt's campaign to remind parents, teachers, artists and children of the importance of making.
Please leave a comment below if you wish

Add to favorites