In this last session before the holidays, working with the theme of snowflakes seemed an ideal way to draw together ideas we've explored this term as well as celebrate the season, and the recent snowfalls.
We've been looking at the balance between structure and fluidity both in drawing and in three dimensional works. Like delicate, flat, frozen drawings, snowflakes are feathery crystals of ice, which grow in six-sided symmetry. We began by folding and cutting white paper, making sharp and crystalline designs.
Cutting Paper Snowflakes
Making Eggs Tempura Paint
While the class was busy with scissors and paper, I invited two to help me crack eggs and separate egg yolks and whites, then gave each person a plate with a dollop of egg yolk and a paintbrush. 'What do I do with this?' they wondered.
Creating Colour Palettes with Egg and Food Colouring
I explained how artists historically made their own paints by combining ground powders of coloured stones, earth, or organic matter with egg yolks. The resulting egg tempura paint is glossy, vivid and luminous. Instead of using ground pigments, I put small dollops of food colouring on each plate, creating miniature paint palates. The class began to mix and paint colour onto the white paper cutouts.
Creative Lines with Piping Bags!
I used food colouring because we next started painting on different canvasses… on cookies!
In previous sessions we used black indelible ink for the 'bones' or structure of a drawing, and flowing shades of water colour paint for the 'body' or shape of the drawing. For this session we began to paint the brightly coloured egg tempura on the cookies, and I prepared piping bags of white icing sugar to use to create lines, and everyone left home with cookies too good to eat right away.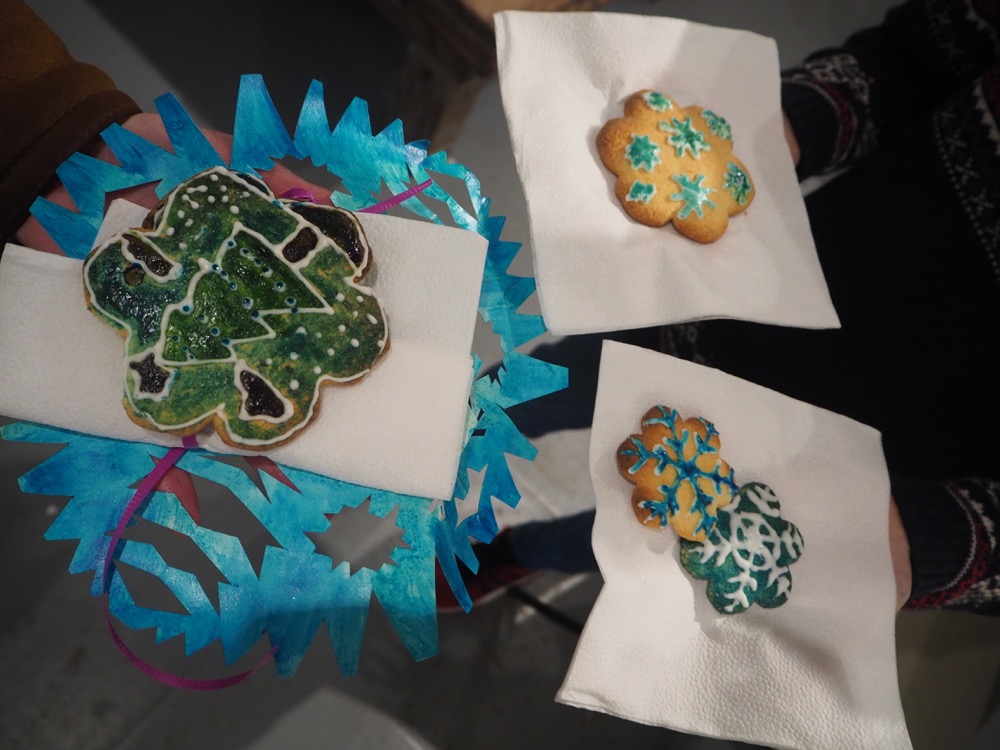 Looking and Enjoying!
I did put holes in the cookies so that they can be hung and visually enjoyed for a bit before succumbing to the the temptation to eat them.
Happy Holidays to All!
Melissa
---
Many thanks to teenagers from AccessArt's Experimental Drawing Class for Teenagers, for sharing their ideas and work with AccessArt.
Many thanks to Melissa Pierce Murray, for leading sessions and sharing her ideas and processes with AccessArt.
UK Charity AccessArt has over 750 resources to help develop and inspire creative thinking, practice and teaching.
We believe everyone has the right to be creative and by working together, and sharing ideas, we can enable everyone to reach their creative potential.
AccessArt welcomes artists, educators, teachers and parents both in the UK and overseas.
---
Sign up to receive our email newsletter. By completing the form below you explicitly agree for us to send our email newsletter to you. We will not share your information with anyone else and you can unsubscribe at any time!
Add to favorites