By Paula Briggs and Andrea Butler
PLEASE NOTE: We DO NOT recommend using oasis with children as the dust can be an irritant. When you use as an adult, we suggest soaking the oasis first to cut down the dust, and carving it in a well ventliated area, removing rubbish straight away. If you would like a similar project for children try Drawn and Collaged Birds and Brave Young Makers: Year Three Pupils at Ridgefield Primary Transform Materials into Birds and Insects.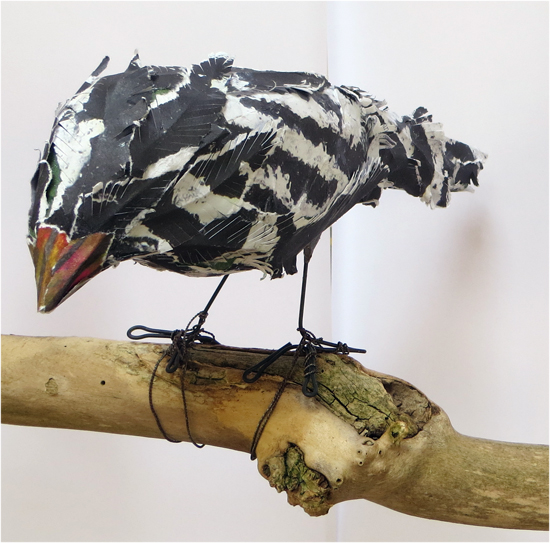 When Black Dog Publishing produced the newly released Drawing Projects for Children book they created a very beautiful book with very attractive layouts. It is printed on sumptuous paper and beautifully illustrated, and the pages inspired me to take a book apart and to consider how I might use the paper to make a sculpture. One of the projects in the book (and in the free-to-access Drawing Challenge) is to make birds using drawn papers of feathers, and I decided to build upon this.
AccessArt member and textile artist Andrea Butler and I worked together to create a small flock of birds from the pages of the Drawing Projects book. This post shares the process we used.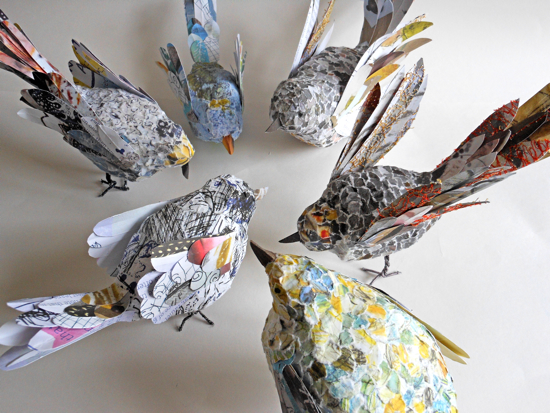 See Also:
The AccessArt Share-a-Bird Project – Join Us!
---
To Begin
Materials:
Pages from a book, or printed or drawn upon paper.
PVA Glue
Oasis
Wire
Knife, Scissors, Brush
We started by making a very simple bird shape (body and head in one shape) from a piece of oasis. Oasis is very easy to carve and makes a good medium for simple shapes which are going to be covered with another material. However the dust can be an irritant, so we DO NOT recommend using with children. When you use as an adult, we suggest soaking the oasis first to cut down the dust, and carving it in a well ventliated area, removing rubbish straight away.
Draw the outline of the side of the head and body onto one side of the oasis. Keep the shapes simple and bold.
Use a knife (it doesn't have to be sharp – even a plastic knife will cut the soft oasis) to cut out the shape.
Next, turn the bird on its back, and again draw the outline of the bird, this time front-facing:
Next using the knife like a paring knife, scrape away at the "corners" of the bird, removing the material to make the bird more rounded. Don't be afraid to remove quite a lot of material.
Before we covered the birds with paper, we painted them with a layer of PVA glue and water (about 1:3 ratio), which helped prevent the oasis disintegrating further.
Covering the Bird
The birds became transformed and took on their own personality when we began to cover them with the paper. The sculptural challenge is how to make a flat sheet of paper become a 3-dimensional material. Have a look at this post to get some ideas.
Our method was simple: use various size pieces of paper to create a variety of textures and form. In some instances Andrea additionally used free style embroidery as a way to add extra texture/detail. Paper was attached to the oasis birds with PVA glue.
Finally legs were made from wire and pushed into the oasis. They were secured with paper and PVA glue:
The Finished Sculpture
The birds produced will be used to kick start our latest project aimed at raising the profile of the importance of arts in school: The AccessArt Bird Project. Find out how to take part in the project here.
See Also:
Manipulating Paper: Turning 2D into 3D
The AccessArt Bird Share-a-Bird Project: Find out how to join in here
Drawing Projects for Children Book

Add to favorites